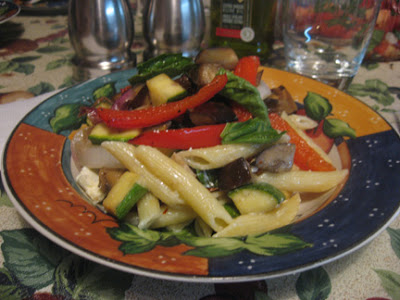 One night last week I absolutely had no idea what to cook (you wouldn't think that would happen as I am surrounded with cookbooks and binders of recipes.  Well actually it was of those hot, humid days (no excuse, we have central air conditioning in the house) and although I was hungry I didn't feel like cooking. Ordering out is a rare option chez moi (my husband prefers home cooked meals) so I went to plan P and made Penne with Roasted Vegetables and Ricotta (made with goat milk).  Top with shavings of Parmigiano Reggiano, compliment with a green salad and a glass (or two) of wine and dinner is served. Buon Apetitio!
Penne with Roasted Vegetables and Ricotta Recipe
I don't have exact measurements for this recipe as it is the result of many past recipes I have made. You can use any vegetables you have on hand or add any to the following list.
In a large bowl combine:
1 large sliced Spanish onion
2-3 red peppers (cut in strips)
2 small zucchini – cut in half vertically and sliced in horizontally
1 medium eggplant cut in small chunks
4 ounces (or more, according to taste) of crumbled salted ricotta cheese.
Spinkle with salt and enough olive oil to coat. Mix well and roast vegetables.
Meanwhile, in a large pot of boiling, salted water cook penne (454 gr of penne fed my family of 4 with leftovers) al dente. When cook, drain penne and leave a little pasta water with the penne.