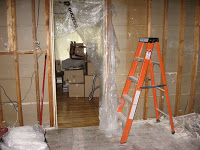 Today, on Thanksgiving Day (in Canada), my kitchen is officially closed! Instead of my family and I celebrating Thanksgiving with my good friend Linda and her family at their auberge (Auberge des Gallant) I am hearing the the banging and noise of old kitchen cabinets, floor and sheet rock being removed to make way for my dream kitchen.
I felt a little sentimental about my kitchen for a moment (memories of ten years of cooking and countless meals with family and friends) but can't hardly for my new wooden cabinets and stainless steel appliances and best of all an island where I will have room to cook with friends and family and make new memories!
The renovation should be completed by October 18th, but by the time the cabinets, appliances, sink, faucet, counters, back splash and hood are installed, I estimate it will be sometime mid November if all goes well. Our bathroom was estimated to be completed in two weeks (in the month of August). I am still waiting to get an estimate for the mirror. Things happen. Supplies are late….I go to Italy in September…….
We celebrated Thanksgiving yesterday by eating a potluck lunch outside on our patio (we must be the only people I know that still have our patio furniture out in October). There were twelve of us sitting around the table eating, drinking wine,wearing sweaters and drinking wine. My sister-in-law Nicole made 'the best roast turkey' (recipe from the 'Cook with Jamie' cookbook) mashed squash and potatoes, cranberry sauce and I made 'anelli Siciliani al forno' ( a family recipe), green bean and tomato salad and homemade bread. Pasta on Thanksgiving? Well, Italians are also thankful for pasta!
For dessert I was only going to make a sponge cake which would be served with the grape coulis that Nicole had made. But on Saturday when I checked my emails, my lovely niece Lauren alerted me to the 'Food Network October Recipe Challenge: Chocolate Chip Cookies'. Now, I love chocolate chip cookies and I am a certified cookbook addict – so I just couldn't pass up the challenge to bake Chocolate Chip cookies a la Anna Olsen and a chance to win a copy of Anna Olsen's Another Cup of Sugar cookbook. The deadline for submissions is October 31st, but my deadline was Saturday else the kitchen could not close on time for the renovation! The cookies turned out exquisite!!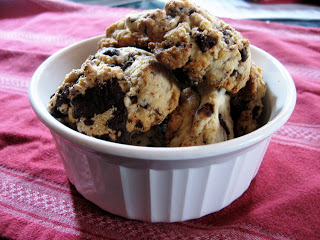 Cllick on this link Chip Cookies a la Anna Olson for the recipe.