We have survived week one of the Kitchen Renovation. They've knocked down one wall. The electrician installed a new fuse box and installed new switches, the boxes in the ceiling for the pot lights. The power was turned off for a few hours which meant no internet and no coffee! Great excuse to go to Starbucks to buy lattes for everyone. Everything seemed to be on schedule until one of the contractor's came down with the flu and asked for a few more days to finish the kitchen before the installation of the kitchen cabinets. Since the cabinets are only shipped out of the factory once a week, they will be delayed one week later which will delay the installation of the cabinets.. The best laid plans of mice and men….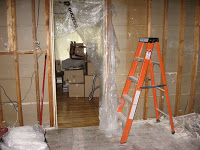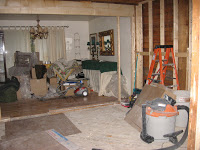 The basement has become our hangout for the next few weeks. We already have a fridge there, so we added the essential espresso machine, microwave and toaster and kitchen table. Since we also have a bathroom and tv room downstairs as well, we're adapting quite well with the chaos. I also manage to tune out the noise when I am working. The one thing I find hard to cope with is the dust…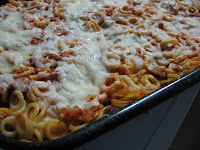 Below is the recipe for the anneli al forno I made for Thanksgiving Day.
Basically, make a plain tomato sauce or meat sauce. Traditionally, I make a tomato meat sauce with peas. This time I made a tomato sauce with fresh basilico and added whole mild Italian sausages. When the sauce is cooked, cook 45o gr anneli pasta (or any other kind of short pasta). If you do use sausages in the sauce, take out and crumble.
Layer the anneli with sauce, crumbled sauce, shredded mozzarella and Parmesan cheese (same concept as putting together lasagna) End with a layer of the cheeses. Bake in a 350 degree oven until cheese is melted. Buon appetito!