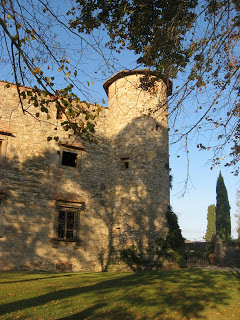 Last year my good friend Linda and I went on our first Rustico Cooking tour to Umbria and Tuscany led by our charming hosts Micol and Dino. We were part of a wonderful group and made good friends. We attended hands on lessons on making home made pasta, went truffle hunting, watched chefs prepare their signature dishes, ate at good restaurants and sampled some of Italy's finest wines.
This year we had the opportunity to embark on yet another wonderful Rustico Cooking tour to the Castello di Meleto located near Gaiole in Chianti in Tuscany. It was my first visit to the Chianti region and I could not have imagined how beautiful the countryside is with its rolling hills, cypress trees and of course the vineyards! We stayed at a villa situated on a hill not far from the castle with the most magnificent view. This is the view that awaited us every morning on our way down to the castle for breakfast and cooking class.
Our days were spent cooking delicious meals with Micol and Dino in the morning which we would eat at a long table 'al fresco' accompanied by Chianti wine , literally under the Tuscan sun. The afternoons were spent visiting the surrounding towns, butcher shops, a vineyard, La Sala, where it is solely run by females and produces amazing Super Tuscan wines, olive oil tasting in Greve, a visit to Duccio Fontani's herb & saffron farm in Castellina in Chianti where he grows and harvests the herbs. I couldn't resist buying buying the saffron and a variety of other herbs he had for sale. The added attraction was his family of donkeys! The most heavenly delicious fig gelato I have ever eaten was at L' Antica Delizia Gelateria in Castellina in Chianti where Simone, the owner, demonstrated how he makes gelato with fig jam and pineapple gelato which we all had to taste of course! This was the most amazing trip and Micol and Dino made it happen!
When we visited Greve we had supper at Osteria Mangiando Mangiano. I loved the dessert – olive cake with pears and pistachios. Micol asked the chef for the recipe which he said he would send it by email. In the meantime I made my own version of this cake using an adapted lemon olive oil cake recipe.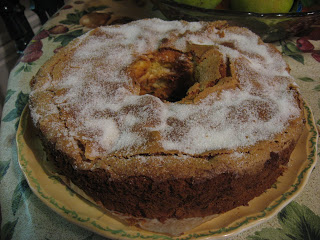 Lemon Olive Oil cake with pears and pistachios
3/4 cup olive oil (extra-virgin if desired), plus additional for greasing pan
1 large lemon
1 cup cake flour (not self-rising)
5 large eggs, separated, reserving 1 white for another use
3/4 cup plus 1 1/2 tablespoons sugar
1/4 cup Vin Santo (optional)
1 cup whole shelled pistachio nuts
2 cups diced pears
Place oven rack in middle position and preheat oven to 350°F.
Grease springform pan with some oil, then line bottom with a round of parchment paper. I used a tube pan.
Oil parchment.
Finely grate enough lemon zest to measure 1 1/2 teaspoons and whisk together with flour.

Halve lemon, then squeeze and reserve 1 1/2 tablespoons fresh lemon juice.
Beat together yolks and 1/2 cup sugar in a large bowl with an electric mixer at high speed until thick and pale, about 3 minutes.
Reduce speed to medium and add olive oil (3/4 cup) and reserved lemon juice, Vin Santo (if using) beating until just combined (mixture may appear separated).
Using a wooden spoon, stir in flour mixture (do not beat) until just combined.
Beat egg whites (from 4 eggs) with 1/2 teaspoon salt in another large bowl with cleaned beaters at medium-high speed until foamy, then add 1/4 cup sugar a little at a time, beating, and continue to beat until egg whites just hold soft peaks, about 3 minutes.
Gently fold one third of whites into yolk mixture to lighten, then fold in remaining whites gently but thoroughly.
Fold in pistachios and diced pears.
Transfer batter to springform pan and gently rap against work surface once or twice to release any air bubbles.
Sprinkle top evenly with remaining 1 1/2 tablespoons sugar.
Bake until puffed and golden and a wooden pick or skewer inserted in center of cake comes out clean, about 45 minutes. Cool cake in pan on a rack 10 minutes, then run a thin knife around edge of pan and remove side of pan. Cool cake to room temperature, about 1 1/4 hours.
Remove bottom of pan and peel off parchment, then transfer cake to a serving plate.
Let cool. Serves 8.