We are well into Week 2 of our kitchen renovations…..during week one we already pushed the delivery of the kitchen cabinets back one week which meant rescheduling the delivery of the appliances and the installing of the granite, etc….. My husband bought me two portable burners so I can start cooking 'real' meals and not eat grilled panini every night.
I even dusted off my crock pot and bread maker in hopes of getting inspired.
But now I need to eat pasta. That I can cook on the portable burners. One of the dishes we made in our cooking classes was a delicious pasta dish called Spaghetti in Spicy Amatriciana sauce . I can still remember eating this dish sitting outside with great company, good wine and a spectacular view of the Chianti country side (sigh).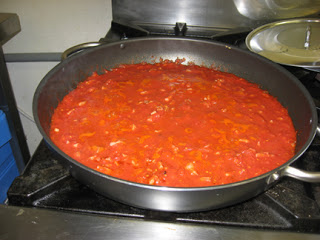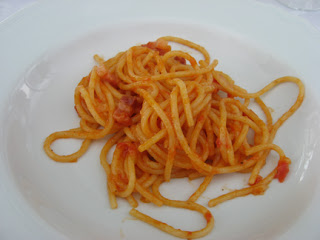 SPAGHETTI IN SPICY AMATRICIANA SAUCE
Serves 6
3 tablespoons extra-virgin olive oil
½ pound Pancetta, defatted and cubed
1 medium yellow onion, minced
1 dried chili pepper, crumbled
1 and ½ pounds peeled, seeded, and chopped plum tomatoes (or 16 canned San Marzano tomatoes, chopped)
2 tablespoons plus ¼ teaspoon salt
1 pound spaghetti
2/3 cup freshly grated Pecorino Romano, plus extra for passing at the table
½ teaspoon freshly ground black pepper

Heat 1 tablespoon of the olive oil in a heavy saucepan over a medium flame and add the Pancetta, onion, and chili.
Cook until the Pancetta takes on a little color, about 10 minutes, being careful not to brown it. Add the tomatoes and ¼ teaspoon of the salt, and cook until the sauce reduces somewhat, about 20 minutes, stirring often.

Meanwhile, bring 5 quarts of water to a boil. Add the spaghetti and the remaining 2 tablespoons of salt and cook until al dente; drain, reserving 1 cup of the pasta cooking water. Toss with the sauce, the remaining 2 tablespoons of olive oil, and 1/3 cup of the Pecorino, dilute with some of the reserved pasta cooking water if needed, and transfer to a heated serving dish.

Sprinkle with the freshly ground black pepper and the remaining 1/3 cup of Pecorino.
Serve hot, passing additional Pecorino at the table.