Today we're starting week 3 of our kitchen renovation. The kitchen will be painted, the kitchen floor will be installed, the appliances and kitchen cabinets will be delivered. It's Monday, the glass is half full.
Last Monday, Cream Puffs in Venice launched the great idea of Magazine Monday to encourage us to cook or bake our ear-marked recipes in our stash of cooking magazines. There's one particular cake recipe, Sour Cream Hazelnut Bundt Cake, in the November 2004 edition of Cooking Light Magazine I have been wanting to bake and Magazine Monday is the perfect occasion. It also coincides with my mother-in-law's birthday (she's 86 today!).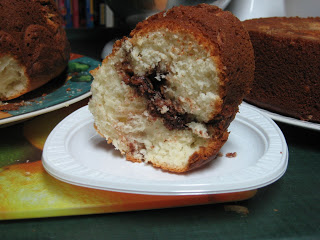 My mother-in-law, Carmela, is an amazing cook and baker. Some of her wonderful recipes are included in our family recipe binder. I actually baked an extra cake for my family whom have been deprived of home made goods for the past two weeks. I didn't have enough sour cream on hand to make two cakes, so I substituted yogurt for one cake. The cake baked with the sour cream turned out delicious (especially accompanied by a glass of milk) and tonight we will taste the cake baked with yogurt.