Last March we finally decided to renovate our kitchen and bathroom. In August the bathroom was renovated and in the beginning of October the kitchen renovation project began.

We practically lived the basement for awhile . It was challenging at times to cook supper on portable burners but it was fun although I don't think my daughters thought it was fun to wash the dishes in the laundry room (what no dishwasher!)

Almost two months later I am back in the kitchen again!! The renovations are complete and the kitchen is fully operational just in time for the Christmas baking marathon and cooking! What a difference! Although I did like our 'before' kitchen, I just LOVE my new kitchen. It was time for a change!

We had a great team of people working on these renovation projects.

Marie Pacitto: Decorator and designer. She assessed our kitchen requirements and then worked with Vima Designs in the designing of the kitchen plans as well as making the choice for colour of tiles, paint and grout. She took time from her vacation to help complete the bathroom project. It's all about the customer. Thanks Marie!!
Vima Design: This team, from George (the owner), Nathalie (designer), Christian and Gabriel (the kitchen installers) provided a high standard quality of work, attention to detail and the best customer service. Thanks team Vima – I love my new kitchen!
Tapis Cosmos: Great customer service. When we were missing tiles and needed them like RIGHT NOW, well we almost got them RIGHT NOW. Thanks Claudine and Dalit – your quick response time saved hours of work delay.
Bowalt Construction: Our contractors and their team are truly hard working and dedicated to providing customer satisfaction. Our house is an ongoing renovation project and by the time we finish (if ever we finish) Bob and Walter will be like family. Ongoing thanks to Bob and Walter!!
Enegertica: Thanks to Nino who did all the required electrical work and made sense of our fuse box!

Su Mesura: Thanks Luigi for the beautiful granite island and counter tops!
Vitrerie Pierrefonds: Great job on the installation of the glass shower door and bathroom mirror!
Also thanks to our friends and family who have had for some months now, listen to my renovation stories. I appreciate all your support.
So for one last time, below are the before and after kitchen pictures.

Kitchen right side – before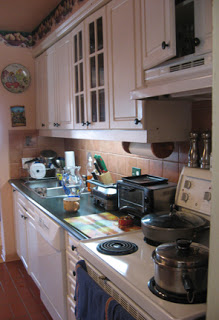 Kitchen right side – after