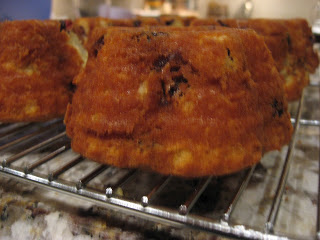 I belong to a group of friends – amazing women. We call ourselves the YaYas. For over four years now we have formed a bond and have gathered to celebrate birthdays and holidays or just met for lunch. We laugh together (do we laugh together) and cry together. We have gone on holidays together where we met other amazing women that became part of the YaYas. We have YaYas in Toronto, Brampton, New York City, North Carolina and even Paris! When we feel we have to get away for a few hours from the hustle and bustle of everyday chaos, we declare it's time for a 'YaYa' lunch. There's a history behind this wonderful group of women which I will post in a future blog.
Today we celebrated Marina's birthday. Claudia graciously hosted a most delicious birthday lunch. She is a great hostess and spoiled us with wonderful food like phyllo dough with a goat cheese/asparagus filling, eggplant patties, pear and walnut salad, among other delectable tidbits. The rest of us contributed by bringing smoked salmon, cheese platter, wine and dessert.
I volunteered to bring the dessert and decided to bake
Cranberry and Almond bundt cakes
– a recipe from one of my
Fine Cooking
magazines which was designated for the Magazine Monday posts launched by Cream Puffs in Venice. I had made these miniature bundt cakes last year around Christmas time and thought they would be the perfect ending for our celebration lunch.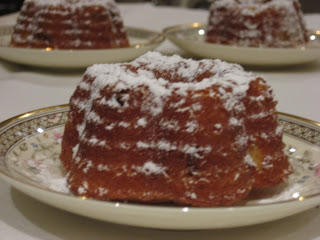 The recipe calls for fresh or frozen cranberries. I preferred using dried cranberries instead. It yields 1 large bundt cake or 12 miniature bundt cakes. I baked them in the Nordic Ware bundt cake pans. By the way, they are also delicious without the cranberries! A few minutes after I had put a batch in the oven to bake I noticed an unopened bag of dried cranberries on the counter. I had forgotten to fold in the cranberries!! A YaYa moment.
Happy Birthday Marina! Thanks Claudia for your warm hospitality!