It's over….all the hustling, bustling, cooking, baking, shopping, cleaning, decorating and sipping wine…and what a great Christmas we had!
Our kitchen renovations were fully completed two weeks before Christmas and by the time all the unpacking was completed and the house was back to normal, there wasn't much time for marathon baking or marathon shopping. We were hosting Christmas Eve dinner for 10 people and a buffet for 21 people on Christmas Day.
On Christmas Eve, we were all in the kitchen cooking together. Some of us were in charge of frying the calamari, smelts and fillets of sole. Others were preparing a smoked salmon platter and shrimp mouse. We steamed mussels, cooked linguine. We ate as we cooked so by the time we sat down at the table we actually had to force ourselves to eat!
The dessert I prepared for that night was a Yule Log or Bûche de Noël where it reigns as the Christmas dessert here in Québec. I had just joined the Daring Bakers and making the Yule Log was the December challenge. It was to be completed and posted on our blogs by either December 22nd or 23rd. I began making it on the 22nd. The genoise cake turned out fine. I was a bit worried about the buttercream frosting. It was the first time I made frosting this way – but it turned out! I filled the cake, rolled it up and placed it in the fridge to be frosted the next day. I did the same thing with the remaining buttercream frosting. I made the marzipan mushrooms. Life was good.
The next day I took the Yule Log and buttercream icing out of the fridge so I could frost the outside, decorate it and post to my blog on time. Well, the buttercream had curdled!! I tried whipping it again and it was worse! So, I made another batch which also curdled. Now I was in total stress mode because I was falling behind in my cooking schedule so I claimed defeat. I made my tried and true frosting, finished frosting the Yule Log which I still served on Christmas Eve. Since I altered the recipe I could not post it as part of the Daring Bakers December challenge. Nevertheless, it tasted rich but good!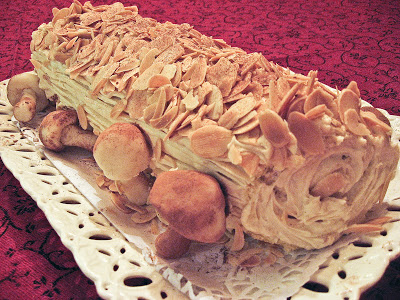 Ivonne of Cream Puffs in Venice and Liz of La Mia Cucina are the hosts of the Daring Bakers. All the Daring Bakers made spectacular Yule Logs! On Christmas Day my husband's family came over for our traditional Christmas buffet and gift exchange. Everyone contributes to the Christmas buffet. We had pasta al forno, turkey with stuffing, tourtieres, salads, cheese platter, appetizers, etc. One appetizer I made this year was Crostini with goat cheese and fig compote. I love figs and and had to include them in our Christmas celebration.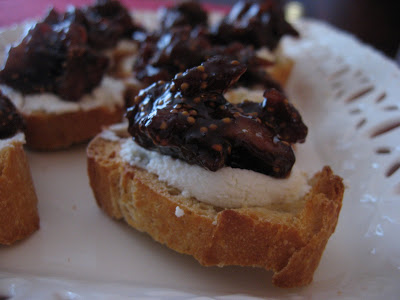 These crostinis are a snap to make. The figs are simmered in red wine, brown sugar and thyme. They taste absolutely divine! You can find the recipe here.
All in all, we had a great Christmas Eve and Christmas Day. We celebrated both days with family and friends. We cooked together, ate together, drank together (salute!) and did we laugh together! Now after two days off, it's time for me to put that apron on, choose a recipe from my wonderful ever expanding cookbook collection and start cooking/baking again.
Happy holidays!