What a great year 2007 has been filled with good health, family, friends, celebrations and wonderful memories! Our good friends, Roma and Maria with their family, moved to British Columbia and we sure did miss celebrating Christmas with them this year! Their youngest son Lowell is our godson and we look forward to seeing them in the New Year!
One of my most memorable events has to be the Chianti Culinary Cooking Tour hosted by Micol and Dino of
Rustico Cooking
. This trip was amazing! A dream vacation come true. Imagine sharing a villa in Chianti with 4 amazing women, cooking every morning in a castle and then eating lunch 'al fresco' overlooking the beauty of the Chianti country side. Micol and Dino are exceptional hosts ensuring that all the group is well taken care of and go to great lengths to ensure we all have a great cooking experience. This was the second Rustico cooking tour for both my friend Linda and me. On our first trip we explored the cooking of Umbria and Tuscany. There are another two cooking tours – to Liguria and Puglia – that we are looking forward to attending.
Micol and Dino also give cooking classes, host cooking parties and team building events in their New York city cooking loft. Linda is celebrating a milestone birthday this coming February and we are both attending one of their cooking classes in New York in the month of February as part of this special birthday celebration.

I couldn't think of a better dessert to end 2007 than
Tiramisu al Panettone e Cioccolata
from the
Rustico Cooking
website. It's a wonderful mélange of panetonne drizzled with chocolate or coffee liqueur and topped with a blend of marscapone, whipped cream and melted chocolate with a touch of espresso! Only one word to describe this dessert – decadency at its best!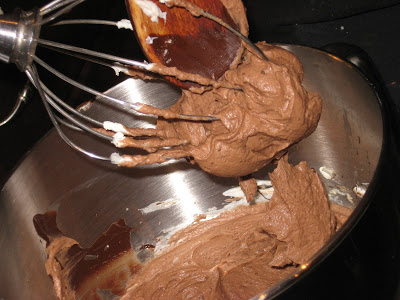 Blending in the melted cooled chocolate into the marscapone.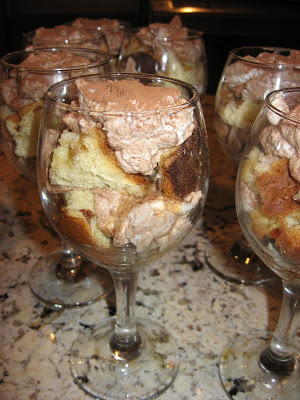 You can find the recipe for this dessert here.
I am looking forward to 2008 . This is the year when my husband and I will be celebrating our 25th wedding anniversary. Ah yes, time does go by when you're having fun!!
Happy New Year to everyone! Best wishes for good health and happiness to you and your families.
By the way, there is a saying that whatever you do on New Year's Eve, you will be doing throughout the New Year. So, what are you doing?