Looking through my collection of cookbooks I decided the time has come for me to make a commitment to make at least one recipe from each book and post the results to my blog. Something to add to my '2008 to do list' or something to justify my cookbook addiction.
The first book that came to mind is 'Pure Dessert' by Alice Medrich, a fairly new addition to my collection.
This wonderful cookbook is a collection of delicious recipes such as: almond cake, Italian Chocolate-Almond torte, Honey Caramels, Olive Oil Chiffon cake with Vin Santo to name a few.
The 'Before You Start' section at the beginning of the book is a great write up defining ingredients, equipment and methods. It was a toss up whether to make the olive oil chiffon cake with vin santo or the olive oil pound cake with sherry – but the latter won. I was curious to see how a pound cake would taste made with olive oil instead of butter.
The recipe calls for a tube or bundt pan or two 8 by 4 inch loaf pans. I make three smaller cakes using 7×3 aluminum loaf pans (one to eat, one to freeze and one to give away).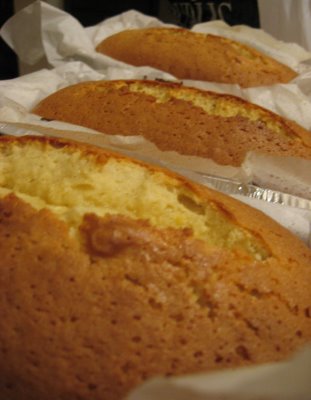 Although I made a couple of substitutions, (lemon zest for orange zest, vin santo for sherry) the cakes came out quite delicious! One was given away but after the second one was sliced and eaten, the third cake did not make it to the freezer as planned!