After a January filled with chicken soup days, I was looking forward to having comfort and sweet days in February. With this in mind I browsed through one of my latest additions to my forever growing cookbook collection, Great Coffee Cakes, Sticky Buns, Muffins & More
by Carole Walter.  I had read a review of this cookbook by Cream Puffs in Venice and I immediately knew that this was my kind of baking.
This wonderful book, from 'Chapter 1 – Perfect Pound Cakes' to 'Chapter 9 – Streusels, glazes, frostings and spreads' as well chapters on equipment, ingredients and techniques is a jewel. It was difficult to choose a recipe among the tempting pound cakes, babkas, coffee cakes, muffins, but finally I couldn't resist the 'Apple Walnut Caramel Kuchen'. A wonderful mixture of apples, caramel sauce and walnuts in a buttery, nutty crust.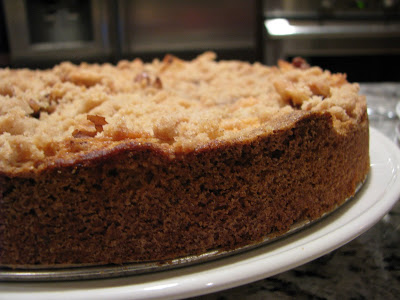 This delicious kuchen is made in 2 steps:
First the crust is prepared and refrigerated while the topping and filling are prepared.
Then the cake is filled with the caramel sauce/apple/walnut filling topped with the buttery, streusel topping.
While the cake was baking, a wonderful aroma filled the kitchen. I was waiting patiently with fork in hand!
After the first bite I knew that definitely I would be baking this cake again.