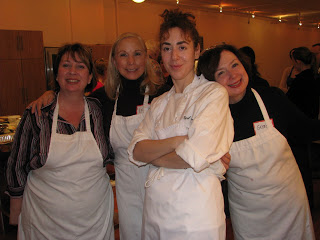 One of the highlights of our New York City trip was to attend a hands on Chianti themed cooking class at the Rustico Cooking Studio given by Micol Negrin. We had been on two Italy cooking tours with Micol and her husband Dino – in Umbria & Tuscany and in Chianti! Both times were such great experiences and we met such wonderful people on the tours. The food, the wine, the people – Italy!
The Rustico Cooking studio has expanded to two floors now and our group inaugurated the new floor that night! Once we donned our aprons we ready to cook!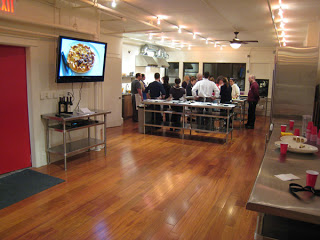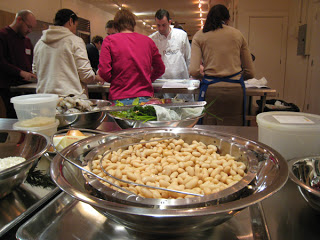 One of the recipes on the menu was:
HERB-MARINATED SHRIMP AND CANNELLINI BEANS OVER ARUGULA
(courtesy of Rustico Cooking)
The trick to tender shrimp is not to overcook them: as soon as they turn pink and curl, and are no longer translucent, they are done and should be removed from the heat.
Serves 6
For the shrimp:
1 cup dry white wine
3 cups water
1 medium yellow onion, peeled
1 bay leaf
1 pound medium shrimp, shelled and deveined
2 tablespoons lemon juice
Grated zest of 1 lemon
2 tablespoons extra-virgin olive oil
2 tablespoons snipped chives
2 tablespoons minced Italian parsley
2 tablespoons minced oregano
½ teaspoon salt
1/8 teaspoon freshly ground black pepper
1 garlic clove, minced
For the beans:
Two 15-ounce cans cannellini beans, drained and rinsed
½ small purple onion, sliced paper-thin
2 tablespoons lemon juice
2 tablespoons extra-virgin olive oil
½ teaspoon salt
¼ teaspoon freshly ground black pepper
16 celery leaves, minced
To serve:
3 packed cups arugula
Make the shrimp:
Bring the wine, and water to a boil with the onion and bay leaf in a 2-quart pot over medium heat. Cook 15 minutes. Add the shrimp and cook just until they turn opaque, about 1 minute. Drain and toss while still warm with the lemon juice, lemon zest, olive oil, chives, parsley, oregano, salt, pepper, and garlic. Add the beans and toss with all the ingredients.
To serve:
Arrange the arugula on a serving platter. Top with the beans and finally with the shrimp. Serve within 5 minutes, before the arugula becomes soggy.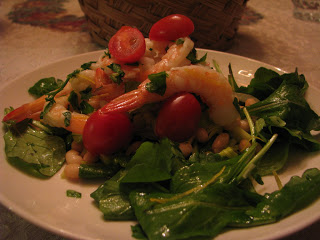 Thanks Micol and Dino! We had a great time – till the next time (in New York or in Italy!)
Andrea of Montreal Foodies posted a great interview with Micol Negrin here.

Studio photos credit: Dino De Angelis