Today is 'La Festa di San Guiseppe' – St. Joseph's Day. My mother was born in Palermo, Sicily and and all her family would join the festivities held in Palermo to show gratitude to St. Joseph for favours granted. Her name is Giuseppina (Josephine) and to celebrate her 'onomastico' – Saint Name Day and St. Joseph's Day, my grandparents used to invite 19 of her friends for supper and to eat zeppole – a kind of fried doughnut rolled in sugar. The zeppole can also be filled with whipping cream or pastry cream.
My mother is 84 years old and still remembers that wonderful celebration on every March 19th . This year she is visiting me for awhile so I decided to surprise her with a plate of zeppole.

The recipe I used for zeppole is from Mario Batali's Holiday Book with a few modifications. I baked the zeppole instead of frying them and filled them with vanilla pastry cream instead of serving them with strawberry jam.
2 cups water
1 teaspoon kosher salt
1 cup (2 sticks) unsalted butter
2 cups all-purpose flour
8 eggs
3 tablespoons vanilla extract
1 cup confectioners' sugar
Preheat oven at 400 F.
Place the water, salt and butter in a 2-quart saucepan and bring to a boil.
Have a whisk and a wooden spoon ready.
Remove the pan from the heat and dump the flour in all at once, whisking it all in.
Return to the burner start stirring with a spoon.
Cook, stirring constantly, until the dough starts to pull easily from the sides of the pan and forms a ball, about 3 minutes.
Remove from the heat and stir until tepid, 6 to 8 minutes.
Add the eggs, one at a time, stirring in each one completely before adding the next.
Stir in the vanilla. Cool completely.
Line two cookie sheets with parchment paper. Place the dough into a pastry bag with a 1-inch star tip and pipe 2-inch rings onto the trays, as many as can fit.
Bake at 400 F for 15 minutes, then at 375 F for 15-20 minutes until evenly browned. Remove and let cool. The zeppole can be eaten at this time sprinkled with icing sugar or filled with pastry cream.
Pastry Cream
(adapted from 'Sweet Sicily')
2 cups milk, divided
2 strips lemon zest
1-2 pieces cinnamon bark
3 tbsp cornstarch
5 egg yolks
1/2 cup sugar
2 tsp vanilla
In a small sauce pan bring 1 3/4 cup milk with the cinnamon bark and lemon zest to a boil. Meanwhile, mix 1/4 cup milk with the 3 tbsp cornstarch. Mix well and set aside.
Whisk together the egg yolks and sugar.
When milk comes to a boil, pour it through a strainer on the egg yolk sugar mixture whisking constantly. Return mixture to sauce pan and whisk in the milk cornstarch mixture. Continue whisking over medium heat until the mixture comes to a boil and thickens. Remove from heat, pour in a bowl and cover the surface with plastic wrap to prevent from forming a skin. Chill before using.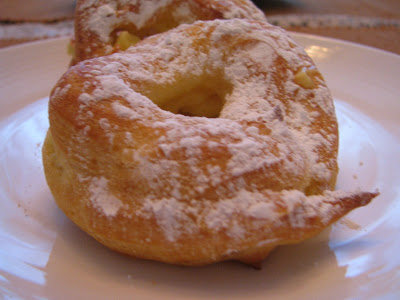 My mother loved the zeppole! It brought back wonderful memories of her childhood in Palermo!
Auguri to all the Josephs and Josephines celebrating today!