I joined a delightful food blog 'Tuesdays with Dorie'. 'Dorie' is Dorie Greenspan, the author of the wonderful cookbook, 'Baking, from my home to yours'. There are two requirements for joining this blog – own the cookbook and have fun baking the selected weekly recipe to be posted every Tuesday.
For this week, Judy of
Judy's Gross Eats
has chosen…Marshmallows on pages 404-405. I like marshmallows – who hasn't made tons of rice krispie squares for snacks and what could be better than toasting marshmallows over an open fire (or those delicious chocolate covered marshmallow Santa Clauses or Bunnies sold by Laura Secord). But, I never thought of making marshmallows. At first I was little intimidated but after reading the recipe a few times I was confident I could do this.
The first time (yes the first time!) everything went well. The syrup came together, the gelatin melted fine, no problem whipping up the egg whites, adding the hot syrup and gelatin along with the vanilla. I decided to use a 9 X 13 inch pan – lined it with parchment paper and liberally spinkled the pan with cornstarch. The marshmallow set well although it was not as thick as the marshmallow shown in the picture in the book. I decided to use a round cookie cutter and cut the marshmallow in rounds.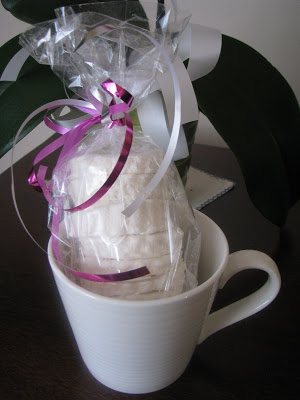 The taste was very good but I wanted to make them again and use a smaller pan so the marshmallow would be thicker.
This time though was quite different from the first time. First of all, I burned the syrup (I answered the phone while it was boiling). The smoke triggered off the smoke alarm which prompted the alarm company to call me before they sent out the fire trucks! The gelatin was not melting properly, some egg yolk fell in the white (managed to salvage the white but then it's always tricky). I made syrup again, but it seemed to brown too quickly. So I just mixed everything together (I forgot to add the vanilla) and hoped for the best. It set well but the marshmallow was all bumpy and still not quite as thick as I would have liked it to be.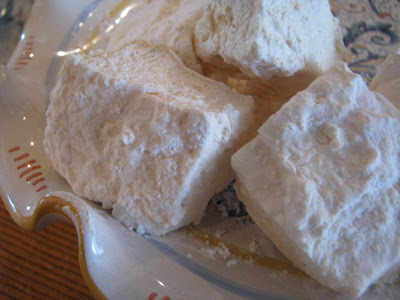 The old saying "leave well enough alone' came to mind, but then my husband came along and popped a marshmallow square in his mouth.
' You made marshmallows!' he said.
Thanks to Judy for choosing this recipe. I probably wouldn't have made it otherwise.