When my daughters were little girls, Mother's Day was all about glitter decorated hand made cards with 'I love you Mommy' scrawled in red crayons, presented to me with big hugs and kisses. Those precious cards are such wonderful memories for me. I kept all the cards and they are safely tucked away.
After reading a post written by Donna of
Spatulas, Corkscrews & Suitcases
about what she 'really, really wanted' for Mother's Day, I was inspired to tell my lovely daughters what I really, really wanted now the house is glitter free! My current reliable Kitchen Aid has mixed thousands of cake batters, kneaded plenty of bread dough and whipped up countless egg whites for the past twenty years but although it still performs well, it was time to get reinforcements in the form of a brand new red Kitchen Aid.

Ask and you shall receive
To show my gratitude, I used my shiny new red Kitchen Aid to make one of our favourite desserts for Mother's Day – a Berry Cream cake.
Thanks Donna for posting what you 'really, really wanted' which in turn inspired me to get what I 'really, really wanted'
Thanks to my family for putting up with all my whims and eating everything I make regardless whether they like it or not. By the way, hugs and kisses are still the 'best'!
My family's favourite Berry Cream Cake.
Base
Pastry Cream
Assorted Berries
Toasted sliced almonds
Icing sugar
Base:

While the cake is cooling, poke holes at the top and drizzle fruit juice or liquor over the top. I used Grand Marnier because I like the aroma mixture of cognac and essence of wild oranges.
Vanilla Pastry Cream: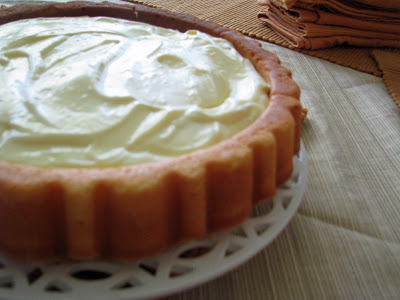 Ingredients:
2 cups milk, divided
1 strip lemon zest
1 3-inch cinnamon stick, broken
3 tablespoons cornstarch
5 egg yolks
1/2 cup sugar
2 teaspoons vanilla
1/2 cup whipped cream (optional)
Method:
In a small saucepan over medium heat, bring 1 3/4 cups of the milk, the lemon zest and cinnamon stick to a boil.
Meanwhile, in a small bowl, combine the remaining 1/4 cup milk and the cornstarch, stirring to dissolve the cornstarch. Set aside.
In a medium mixing bowl, whisk together the yolks and the sugar. When-milk mixture has come to a boil, pour it through a strainer onto the beaten yolks-sugar mixture, whisking constantly. Return this mixture to the saucepan and whisk in the milk-cornstarch mixture.
Over medium heat, bring to a boil again, whisking all the while, and continue to whisk until the mixture thickens. Add the vanilla, remove from the heat, and scrape into a bowl. Cover the surface of the cream with plastic wrap to prevent it from forming a skin.
(The cream keeps for up to 3 days, tightly and refrigerated.) Chill before serving.
Optional: Fold in 1/2 cup whipped cream into the pastry cream before using on cake base. This will lighten up the pastry cream if it comes out too thick.
Top cake with your favourite berries.
Our favourites are strawberries, blueberries and black berries. Sprinkle with toasted almonds and icing sugar.
A dessert fit for a "Mom"!