'Peperonata in agrodolce' literally means sour and sweet peppers. I found this recipe ' while browsing through Francois-Xavier's FX Cuisine searching for Sicilian recipes. This particular post was about a cooking class he attended given by Eleonora Consoli, the top authority on Sicilian cuisine, in her Mediterranean kitchen in her home on the slopes of Mount Etna. It sure brought back memories of my visit to Mt. Etna a few years ago!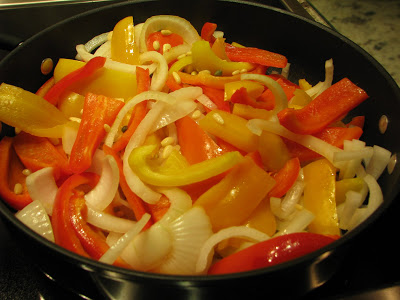 The addition of vinegar and capers along with sugar gives this dish a perfect balance of 'sweet and sour'. I altered the recipe to suit my family's taste by substituting the capers for the raisins. I also used red, yellow and orange peppers and sweet onions. It's simple to make and a delicious accompaniment to any meal.


Pepperonata argrodolce – Sweet and Sour Peppers
(recipe as listed on FX Cuisine)
Ingredients:
4 bell peppers
1 large onion
1 small glass vinegar (about 1/2 cup)
1/4 cup pine nuts
1/4 cup raisins
1/4 cup capers
1 tbsp sugar
Mint leaves

Method:

Wash, stem and seeds the peppers. Cut in 2.5cm/1" squares.
Peel the onion and slice thinly.
Pour 2 tbsp olive oil in a deep frying pan and add the onion and peppers.
Heat on a moderate-high flame.eat on a moderate-high flame.
Add the pine nuts, capers and raisins to the peppers.
Pour in a small glass vinegar, stir and cover.
Add the sugar.
Let it cook on a low flame until the peppers are soft, about 12 minutes.
Shred a few fresh mint leaves by hand and add them to the cooked peperonata.
Pour into the serving platter, cover and set aside until dinner is ready.
This dish is usually served lukewarm.

Mt. Etna Escapade
A few years ago my good friend Linda and I went on a 2 week whirlwind tour of Italy which ended in Sicily – my mother's birthplace. One of the highlights of our stay in Sicily was going to be a guided tour to Mt. Etna which measures 3,325 meters and is the tallest volcano in Europe. This information, coupled with my fear of heights, brought me to the decision to bid my fellow travellers good luck as we disembarked our tour bus. But then, during a moment of temporary insanity, I found myself waiting in line with them for a cable car which would start our journey up Mt. Etna and then transfer to a 4X4 Jeep that would transport us up to the 2,900 meter mark.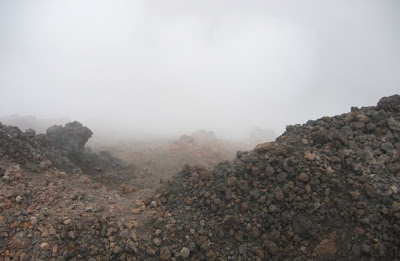 It was very foggy that day and I was amazed how the Jeep drivers were able to navigate their way through the fog without falling into craters or falling off the volcano. Talk about a reality check – we were on a volcano! When we finally arrived at our destination, the fog was so thick that we could hardly see in front of us. Linda and I hung on to each other carefully placing one foot in front of the other. At some point we had to yell out to our guide to come and get us because we were too scared to move!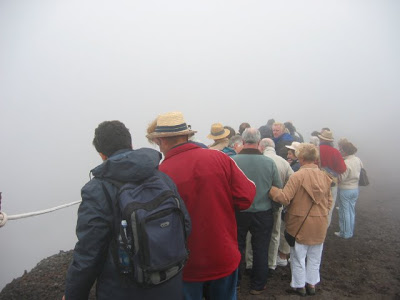 I collected some rocks to bring back home just in case one of my daughters would someday have a project on volcanos to do for school (they actually did!). As I was picking up the rocks, I noticed that the ground was warm to the touch. We found out later that day that there was some 'activity' detected on the volcano. That would explain why we didn't see any people on the cable cars going up to the volcano as we were coming down. It's a goood thing I found this out after the fact otherwise I probably with have been frozen with fear!

Apparently the view from Mt Etna is spectacular on a clear, sunny day but one trip up the volcano for me was enough for a lifetime!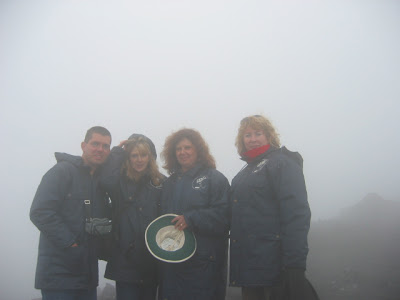 .