I was delighted that Tara of Smells Like Home chose Traditional Madeleines from Baking from My Home to Yours cookbook by Dorie Greenspan for this week's Tuesdays with Dorie.
Why? Because I absolutely love, love madeleines! The first time I read a recipe for madeleines was in the Cookie Book of Time Life's 'The Good Cook' series. Yes, that long ago! I was so impressed with these little shell shaped sponge cakes that I went out and bought the madeleine pans and went on my first of many 'madeleine phases'.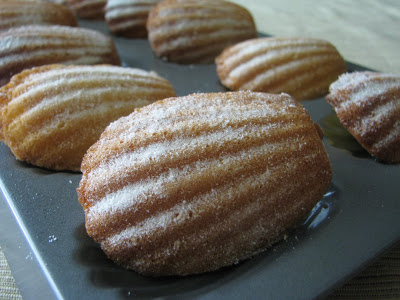 This week I went to my 'must have baking pans' storage area and dug out my aluminum madeleine pans. I followed the Traditional Madeleines recipe, refrigerated the batter for the mandatory three hours and waited in anticipation for the madeleines to bake. Once baked and cooled, they stuck to the pan! I had to pry them out of the pans (which I did grease and flour) and mangled that lovely shell shape. So what did I do? I went out and bought non stick madeleine pans of course, to add to my 'must have baking pans' storage.
Good thing my family didn't notice yet another baking pan purchase. They just ate all the mangled madeleines ( which were delicious) and were happy not to have to wait for the 'blog photo shoot'.
The second time around I altered the recipe. I substituted orange rind for the lemon rind and Firori di Sicilia (translation: Sicily's flowers) for the vanilla extract. Fiori di Sicilia is a citrus based extract that is commonly used in Italian baking. The flavour of this extract enhanced the taste and smell of the orange zest. This time the madeleines baked to perfection and slipped right out of the pan. A little sprinkle of vanilla sugar and voila – sweet madeleines!
Thank you Tara for choosing one of my favourite recipes. Take a look at the wonderful madeleines of the Tuesdays with Dorie Bakers.
The Traditional Madeleines  recipe is on pages 166-167 of the "Baking: From My Home to Yours"
cookbook by Dorie Greenspan.