For this week's Tuesdays with Dorie baking event, Marie of A Year in Oak Cottage
has chosen… La Palette's Strawberry Tart on page 374 in
Dorie Greenspan's cookbook: 'Baking from my home to yours'.
While looking for my tart pan with the removable bottom in my baking pans stash, I found a tartlette pan from Nordic Ware that I had bought awhile ago just in case I ever needed one so I decided that this would be a good time to make strawberry tartlettes instead of one large one.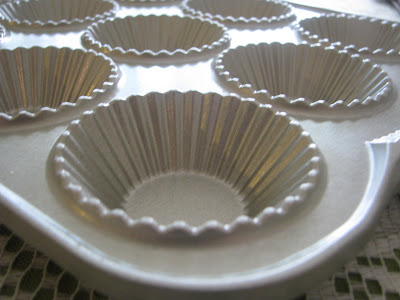 This recipe was simple with a few steps to follow. I love the buttery taste of pâte brisée, the short pastry used for this tart. There's no rolling, the dough is very forgiving and the ingredients are put together in a jiffy in the food processor.

I divided the dough into 12 pieces and patted each piece in the individual
tartlette molds of the tartlette pan. After an hour of the pan being in the freezer,
I topped each tartlette mold with foil paper before baking. The baking time took
longer than the recipe called for (about 10 minutes).
I served the tartlettes for dessert that night. I filled each one with 1 teaspoon of homemade strawberry jam, topped it with a sliced strawberry and almond slices. I did not have the right kind of liqueur on hand to sprinkle on top so I served them as they were. The strawberries and the jam, the crunch of the almonds with the buttery flavour of the crust were just scrumptious! I suspect that my family is looking forward to Tuesdays with Dorie each week.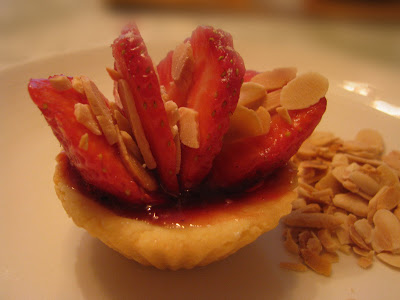 So, get yourself the book, turn to page 374 or you can find the recipe at SeriousEats
and make this awesome easy strawberry tart for your next dessert! ooh la la!!