This week's Tuesdays with Dorie baking event, Caroline of A Consuming Passion has chosen… Peppermint Cream Puff Ring on pages 290-292 of Dorie Greenspan's 'Baking: From my home to yours' cookbook.

Hmm… Choux pastry has always been a hit or miss with me and I was hoping that this time it I would get it right. I decided to use vanilla pastry cream as the filling and omit the peppermint.
The choux pastry was a breeze to put together now that I used my shiny new red Kitchen Aid to beat in the eggs instead of beating them in by hand. I had no trouble piping the rings of dough into rings. So far so good. The ring looked wonderful as it was baking in the oven. Once baked it was all puffed and browned. I should have taken a picture then.

Showtime
By the time it cooled, the puffed and golden brown ring had deflated!! I cut off the top and filled it with the pastry cream lightened with whipping cream but it still looked flat – you couldn't see the filling. It was not photogenic at all! I was so upset that I covered it and stuck in the fridge until I could figure out what to do.
That was last night.

Fortunately I had made smaller cream puffs with the extra choux pastry. So today I filled them up with vanilla ice cream, topped them off with chopped pecans and hoped for the best.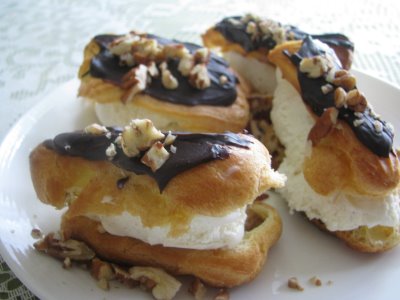 With the ice cream filling they didn't look flat at all. The challenge was to take the photos quickly before the ice cream started to melt. Tonight I served my family the flattened cream puff ring I made last night for dessert and they all loved it. It seemed the only one who was concerned about what the cream puff looked like was me!

Will I make this dessert again? Of course until that ring stops deflating. Thanks Caroline for choosing such a delicious dessert. Next week's selection will come from Beth of Our Sweet Life . The TWD bakers are presenting their Peppermint Cream Puff Ring at Tuesdays with Dorie.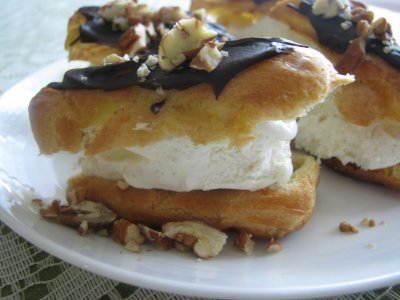 The recipe for Peppermint Cream Puff can be found on pages 290-292 in Dorie Greenspan's 'Baking: from my home to yours' or at A Consuming Passion.