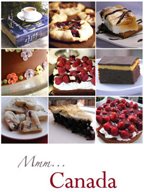 This year I was invited to participate in the 'Mmm Canada' food blogging event to celebrate Canada Day on July 1st hosted by Jasmine of Confessions of a Cardamom Addict and Jennifer of The Domestic Goddess .

The rules are simple – post either a savoury or sweet recipe or both that represents Canada. Since the majority of my savoury recipes are Italian I opted for the sweet submission. Naturally, having been born, raised and still living in Quebec, one of the main ingredients would have to be maple syrup – our liquid gold. Canada produces 80% of the world's maple syrup with the majority (75%) supplied by Quebec.
During the maple syrup season (end of February through the end of April), it is a Quebec tradition that has Sugar Shacks or 'Cabanes à Sucre' offer maple syrup meals to the public, as well as maple syrup products. Our favourite Sugar Shack is the Sucrerie Gallant (Gallant Maple Sugar Shack) located in Rigaud, Quebec.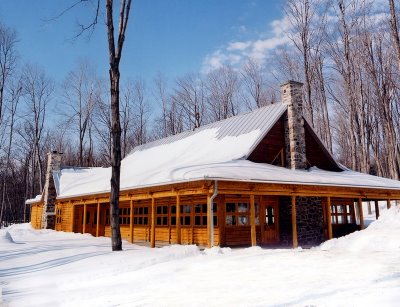 The Gallant Maple Sugar Shack was built from the trees that were salvaged from the 1998 ice storm. The 10,000 taps make for quite a busy spring for the Gallant family to produce maple syrup and its products. The maple syrup meals are served 7 days a week with sittings at different times of the day.

After we have feasted on a typical sugar shack meal we stock up with case of maple syrup cans (Grade B) and maple sugar. But we need not worry if we run out (and we do), we can purchase it year round. Maple products can also be purchase from the Gallant Maple Sugar Shack website. We only use pure maple syrup to pour over our pancakes, waffles, ice cream and of course fresh berries that are now in season.
Among the large variety of sweet recipes made with maple syrup and/or maple sugar, Maple Sugar Ragga Muffins and Maple Syrup Bundt Cake are our favourites. These are recipes with some serious sweetness.
Maple Sugar Ragga Muffins (Pet des Soeurs in French) or sometimes known as Nuns Pastries, are made with a biscuit dough rolled and filled with maple sugar. The result is a buttery, tender roll with the sweet taste of melted maple sugar. I sometimes add cinnamon and chopped nuts to the maple sugar.
The Maple Sugar Ragga Muffins recipe was listed in the Gourmet March 2006 Special Edition featuring the city of Montreal.
Maple Syrup Pecan Bundt Cake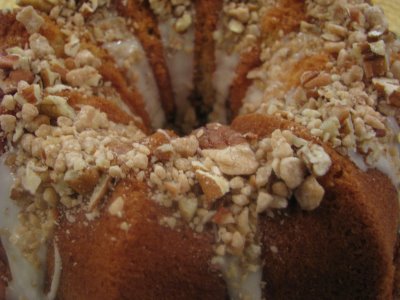 This cake is maple sweetness at its best. Not only does it contain a whole 2 cups of pure maple syrup, the filling and topping are sweetened with coarse maple sugar. A small slice goes a long way to satisfy a sweet tooth. I usually bake in in a Nordic Ware bunt pan but I have also used a tube pan. The topping is optional. A scoop of ice cream really puts the 'icing' on the cake.
What else does Canada represent to me? Home!

Happy Canada Day!

Maple Syrup Pecan Bundt Cake
(recipe adapted from 'The Cooking of Provincial Quebec')
Ingredients:

Cake:

½ cup sugar
1/2 cup butter
3 eggs beaten
1 3/4 cups maple syrup (Grade B)
1/2 cup buttermilk
Pinch of salt
3 cups cake and pastry
3 tablespoons baking powder
Filling and topping:
2 cups chopped pecans
1 cup maple sugar
Icing: (optional)
1 cup icing sugar
2 tbsp maple syrup (or more if needed)
Method:
Preheat oven to 350 F. Grease and flour bundt pan.
Filling and topping:
Mix chopped pecans and maple sugar in a small bowl.
Cake:
Cream the butter and add the sugar gradually beating well after each addition.

Add the beaten eggs, then the maple syrup.

Mix together the flour, baking powder and salt.

Add the flour mixture in three additions, beat well after each additon.

Pour half the batter into the prepared bundt pan. Sprinkle half the filling and topping. Pour remaining batter on top.

Bake for 50-55 minutes.
Let cool completely before icing (if using).
Icing:
In a small bowl, mix icing sugar and maple syrup until pouring consistency. Add more maple syrup if necessary.
Serve with a tall cold glass of milk!
Gallant Maple Sugar Shack photo used with permission from Auberge des Gallant