When I read that Kelly of Sass and Veracity and Ben of What's Cooking? chose 'Danish Braid' for June's Daring Bakers' challenge I was skeptical that I could complete this challenge. A butter block? Folding dough? Are those not part of a croissant recipe? The fact that I never made this kind of dough before didn't help matters. Well, I read the recipe a few times over. It was divided into steps and each step was so well defined that I decided that at least I should give it a try. I sure am glad I did. I managed to complete each step and actually bake a Danish Braid! Who would have thought? I loved the filling with the caramelized apples!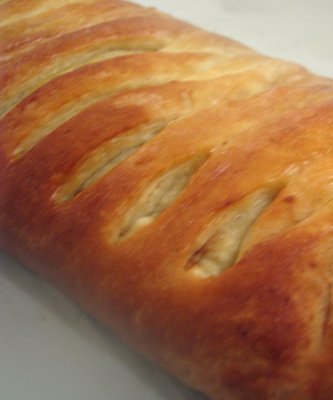 Since I was being so adventurous, I decided to make croissants with the rest of the dough.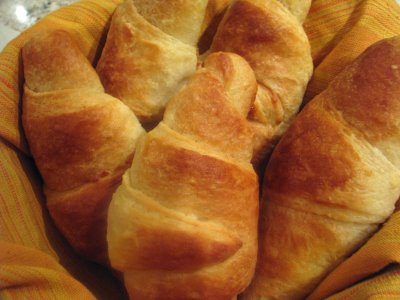 I was so happy with results – especially for the first time making the Danish Braid and the croissants! Will I make them again? Only when I lose these extra pounds I gained. But then my husband told me that this was the BEST Danish braid I ever made and I definitely had to make it again. It's the only Danish braid I ever made.

Thanks Kelly and Ben for choosing this recipe. I never would attempted to make it otherwise and I am sure I will make it again.

Visit Kelly and Ben for the recipe and the Daring Bakers for their Danish Braid creations.