For this week's Tuesdays with Dorie event, Karina of The Floured Apron has chosen…Apple Cheddar Scones on page 32 of Dorie Greenspan's cookbook, Baking: from my home to yours.

Apple and Cheddar sounded like a good combination so I decided to make them this past weekend for breakfast. Well, as the saying goes, 'the best laid plans of mice and men'. Both my daughters fell sick with a nasty and cold and cough which eventually caught up with me with the added touch of a fever. Plans had to change and the weekend scones were not made.
Yesterday I rested all day as I was expecting guests for a Canada Day BBQ today. I felt a bit better last night so I made the scones. Since I did not have any dried apples, I did not use any other dried fruits and used white cheddar cheese.
As the scones were cooling I noticed that some were already missing from the cookie sheet so grabbed my camera and took a picture before they all disappeared. This is the first time I have tasted a scone with cheese and I must admit I really liked the taste. My family ate them just as they were and loved them. So I think they did as there are none left. Guess I will have to make some more next weekend (weekends are the only time we get to eat breakfast together).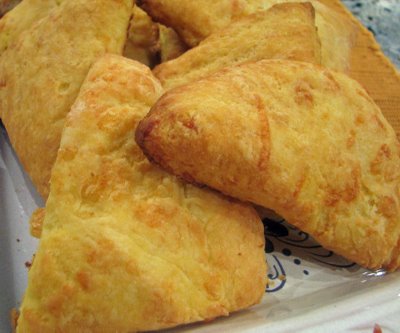 Thanks Karina for choosing such an easy and delicious recipe. The Tuesdays with Dorie bakers are serving up their Apple Cheddar Scones at Tuesdays with Dorie. Visit the The Floured Apron for the Apple Cheddar Scones recipe or buy yourself a copy of Baking: From mine home to yours. It's a treasure of a book to own.
Well, the BBQ was rescheduled as my girls are still sick with a horrible cough and I still have a sore throat.
Happy Canada to everyone who's celebrating!