Melissa from Its Melissa's Kitchen picked… Chocolate pudding for this week's Tuesdays with Dorie challenge from Dorie Greenspan's 'Baking: from my Home to Yours.' I was happy with the choice, as chocolate pudding is one of my all time favourite comfort food and my whole family loves it.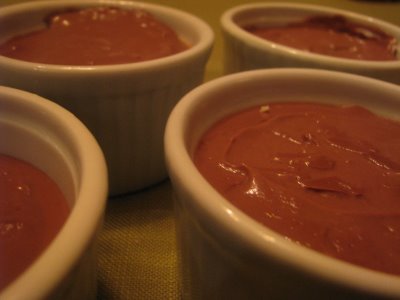 I wouldn't have thought to use a food processor to making pudding. With a saucepan, bowl and a whisk, I can whip up my tried and true chocolate pudding recipe in no time. I was a bit concerned that once I poured the hot milk into the food processor it would overflow but it just made it. The recipe was quite easy to follow but too time consuming for me and then there was the food processor clean up.

The taste is absolutely creamy, rich, and dense with chocolate delicious! Is it worth the hassle to make it? Absolutely! But next time I would skip the food processor part and adapt the recipe to my method of making pudding.