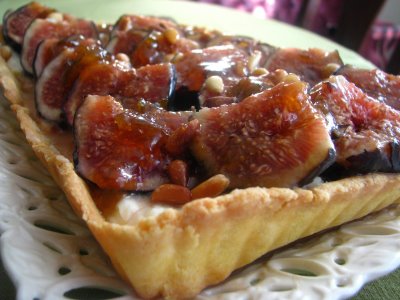 I
never imagined that my love for fresh figs would end up having not one, but three fire trucks at my door. It all started when I found out that Adonis, a Middle Eastern food store in our neighbourhood, had just received a shipment of fresh figs, I hopped in the car and drove there immediately. Just in time too. There were about 5 cases of figs left (20 figs in each case). I bought three cases (one for my in-laws and two for us). I knew that one case would be devoured in no time among the four of us and I could use (hide) a few figs from the remaining case to make a lovely fresh fig tart with rosemary cornmeal crust and a mascarpone lemon filling using a recipe I found in the July 2003 edition of Gourmet magazine.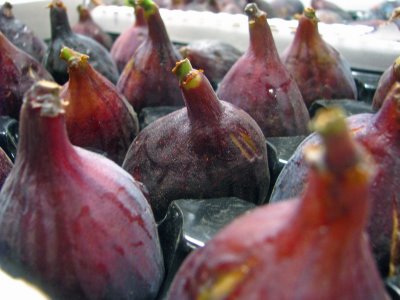 The crust was quite simple to assemble, much like a pie crust except instead of rolling out the dough, I patted it in the rectangle tart pan with a removeable bottom. I refrigerated the dough for 30 minutes, then preheated the oven to 400 degrees F, placed the crust in the oven, set the timer and went sat down at my laptop (which I brought out to the dining room) to catchup on some work. When my husband walked through the kitchen, he alerted me to the fact that the oven was full of smoke. He immediately turned off the oven, started the fan and big mistake – opened the oven door which promptly set off the fire alarm
.
No need to panic
.
There was no fire so when the alarm company called, I explained that everything was under control. The alarm went off again due to the amount of smoke but this time the alarm company did not call. I assumed that since they spoke to me everything was under control. So I went back to work on my laptop to wait until the smoke cleared completely. By then the oven would have cooled down and I could start cleaning up the mess on the oven floor. The cause of this mess was that for some reason the dough had begun to 'melt' and seeped through the bottom of the tart pan.
All of a sudden I noticed some fire trucks on our street through my dining room window. What a coincident I thought but then it dawned on me that those fire trucks were stopped in front of OUR house. OMG! Three fire trucks! For a brief moment I envisioned the firemen running in with their axes and hacking away at my newly renovated kitchen! I opened the door for the firemen to explain that there was no fire and there stood these good looking young firemen and there I was in my baking 'attire' – sweatpants, tshirt, and my hair clipped up ontop of my head. I probably had flour in my hair as usual. Quite a sight! I am sure the firemen must have had a good chuckle and my alarm company sure got an earful from me!
That was enough baking excitement for me that day. Besides, I had to figure out what went wrong. The only thing I could think of is that the dough was not cold enough. So the next day I made the dough once again and this time I refrigerated it for at least two hours and then I also placed the tart pan on a cookie sheet before placing it in the oven. I literally sat in front of the oven to make sure the same thing wouldn't happen again. The crust came out of the oven pefectly baked! While it cooled, I made the the filling and cut up the figs which were really ripe by this time. Overall, the fig tart came out quite good. I sprinkled some toasted pine nuts on the tart (this was not part of the original recipe). My husband thought the filling was a bit too sweet and my daughters prefer to eat figs just on their own.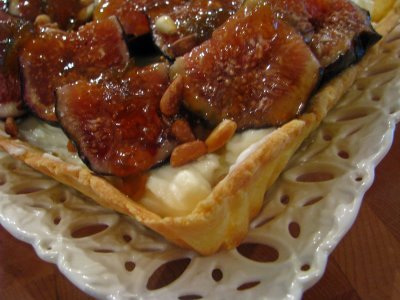 I had intended to post this recipe for Magazine Mondays, an event launched by
Cream Puffs in Venice
, but since I will be out of town this coming Monday I decided to post it today.
The recipe for fresh fig tart with rosemary cornmeal crust and lemon mascarpone cream can be found here.
I wonder if our fire station sells calendars
.