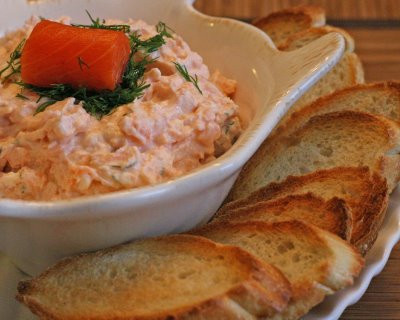 Ashley of The Spicy Skillet chose Smoked Salmon Spread from from Barefoot Contessa Family Style, page 35 as this week's Barefoot Bloggers. The Family loves smoked salmon and we do eat it often but not in a spread so this recipe would be something new to try.
I was in Brampton visiting my mother and sister for a few days this week and in Toronto visiting friends so I ended up making the smoked salmon spread with my sister Silvana while my nephew Jarrod took the photo. I just go back from Brampton this evening. That's why I am posting so late in the day.

We used the food processor to mince the smoked salmon and added the rest of the ingredients. Since we are not fans of cream cheese we substituted the 8 oz. of cream cheese with 4 oz. of goat cheese. We served it with toasted baguette slices with a side dish of sliced tomatoes and avocados sprinkled with olive oil. Delicious! This is a great recipe to serve an appetizer or as part of a buffet.

Thanks Ashley for choosing this recipe which is easy to make and is so delicious. The recipe for Smoked Salmon Spread can be found here. The Barefoot Bloggers are serving up their Smoked Salmon Spread here.
Photos by Jarrod Wilson