For this week's Tuesdays with Dorie, Michelle of Michelle in Colorado Springs chose the Summer Fruit Galette on pages 366 – 367 from Dorie Greenspan's 'Baking: from my home to yours'. The first thing I thought when I read it was that I had to make that pie dough AGAIN! I had major problems rolling out it when I made the Double Crust Blueberry Pie a few weeks back. Well, at least I could have another try at the dough. I had just bought some luscious looking plums which I thought would be perfect for the filling.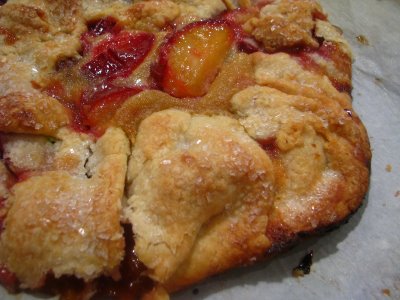 This time I had no problems rolling out the dough. I spread cherry jam on the dough, sprinkled it with graham cracker crumbs and topped it with the plums. I folded over the dough and sprinkled it with sugar. I didn't think the plums were that juicy, but there was juice leaking out all over the place while the galette was baking. Also, I could only pour about half of the custard into the galette.
I had invited some out of town friends for coffee and thought this would be the perfect opportunity to bake the galette. But now with the juice all over the place, I was having seconds thoughts about serving it. When my friends arrived, the galette had not yet finished baking but there was a wonderful smell coming from the oven. It didn't look that wonderful once I took it out of the oven (hence the photo), but the consensus was that it turned out delicious. I am allergic to most raw stone fruit but I thought since the plums would be cooked there wouldn't be a problem.
When I took the first bite, the inside of my mouth started itching regardless of the plums being cooked. It's then I realized I also used cherry jam with the plums – double whammy. Well, thank goodness this was not an Epipen episode but I did take Benadryl which worked. Next time, I will definitely use only berries.
Thanks Michelle for choosing such a versatile recipe. Visit Michelle in Colorado Springs for the Summer Fruit Galette. Visit the TWD Bakers to see the wonderful galettes they have baked.