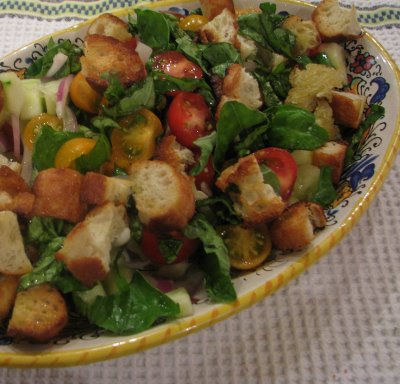 Barefoot Bloggers is a group of Ina Garten's fans that cook recipes chosen by one of the group's members every two weeks and post them to their blogs. We are die hard fans of Panzanella and I make it often during the summer. Since my recipe slightly differs than the one chosen, I was a bit skeptical in trying this one. You know the old saying 'don't fix it if it's not broken'. So, the best thing to do was to use my recipe with a few 'Ina Garten' tweaks.

In my recipe, I use two day old bread, dip it water and squeeze it dry. Instead, I followed Ina's the directions on how to prepare the bread. I didn't use the peppers (the husband does not like raw peppers in the salad) but used yellow and red cherry tomatoes instead. The rest was basically the same except I only used olive oil and balsamic vinegar as the dressing. It was sooo good! Sometimes I add chunks of Parmigiano cheese.
Thanks Melissa for choosing one of my family's favorites. This recipe can be found in Barefoot Contessa Parties! on page 102 or at the FoodNetwork website. The Barefoot Bloggers are serving their Panzanella salad here.