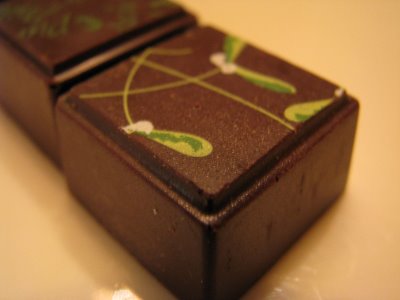 After spending the morning on a 'back to school' shopping spree with my youngest daughter, we stopped at the market for a quick lunch and a food shopping spree. This particular market is located in a building complex that houses other shops where you can purchase meat, fish, bread, speciality cheeses, tea, coffee, bread and pastries, home made pasta, and amazing chocolate!
Usually, I just go into a few shops but this time we walked around visiting each shop and discovered ChocoStyle, this wonderful small chocolate shop that sold these amazing chocolate squares in flavours of Jalapeño, Pistachio, Cognac Almond Paste, Strawberry with Basil and Caramel with Fleurs de Sel (Flower Salt), just to name a few. (all the flavours are listed on their
website
).
Since it was our first time visiting the shop we were offered a free sampling of some of the chocolate. I chose the Caramel with Fleurs de Sel and the Jalapeño . The taste of chocolate with caramel and salt is truly a taste worth savouring while the chocolate with Jalapeño leaves a lingering 'hot' taste in your mouth! Both flavours were just scrumptious! I bought a box of 6 different flavours but I am sure that future trips to the market will also include a visit to ChocoStyle for a chocolate treat.
This chocolate shop is truly a chocolate lover's paradise.