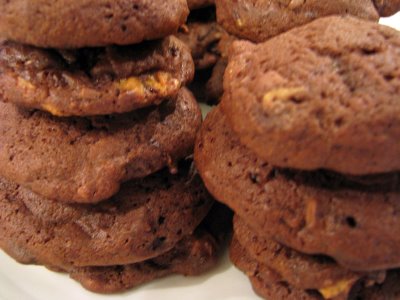 Time to bake the cookies once again! For this week's Tuesdays with Dorie, Rachel of Confessions of a Tangerine Tart chose Chocolate Whopper Malted Drop. Sounded good to me!
I couldn't find any malt powder so I bought Ovaltine. I actually tried it before I used it for the cookies, and honestly I didn't like the flavour. Well, I thought it will probably just blend in with the other ingredients. Then I went in search for Whoppers – couldn't find them either. When I mentioned this to my oldest daughter she said that most probably they're Malteasers up here these parts of the world. And that they were. Instead of trying to convert grams into ounces at the store, I bought two large bags. Good thing, because after I measured the required 6 ounces for the recipe, the Malteasers disappeared. I baked these cookies during the critical after school and before supper time. Not a good idea.
The cookies turned out really good even though I used half of the amount of the bittersweet chocolate. I didn't think my husband would like them as he is not a fan of chocolate cookies (or is it chocolate chips?) but he thought the cookies were 'wicked'. Not many cookies left this morning after lunches were packed. Just as well because I can't be trusted alone with chocolate cookies!
Great choice Rachel! The recipe for these 'wicked' Chocolate Whopper Malted Drop cookies can be found at Confessions of a Tangerine Tart or on page 85 of Dorie Greenspan's Baking: From my Home to Yours.
Visit the Tuesdays with Dorie website and and check out the TWD Bakers's Chocolate Whopper Malted Drop cookies.