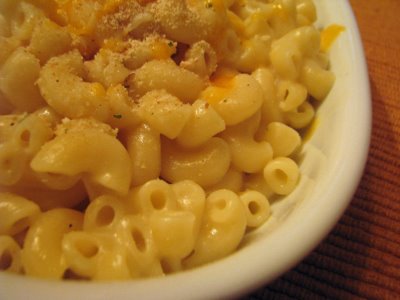 When I read that Heather of Randomosity and the Girl chose Ina Garten's Grown Up Mac and Cheese as the dish to make for today's Barefoot Bloggers cook event, I wasn't sure whether I wanted to make it or not. The only cheese I ever mix with pasta is Parmigiano Reggiano, Pecorino or Mozzarella and I wasn't sure how the family would like the taste of Gruyere cheese or Gorgonzola with pasta.
Nevertheless, since the purpose of this event is to try different dishes, I went ahead and made the Grown Up Mac and Cheese. I substituted Mozzarella for the Gruyere but I did use the Cheddar and Gorgonzola. My daughters and goddaughter liked it although they found the sauce a bit heavy with the different cheeses. My husband said it was good but I could have added more Gorgonzola.
It didn't make the 'top ten' pasta dishes list so I probably won't make it again but I am glad I gave it a try.
Thanks Heather for choosing this grown up version of Mac and Cheese. The recipe for Grown Up Mac and Cheese can be found on the Food Network website. Visit the Barefoot Bloggers website and check out their version of the recipe.