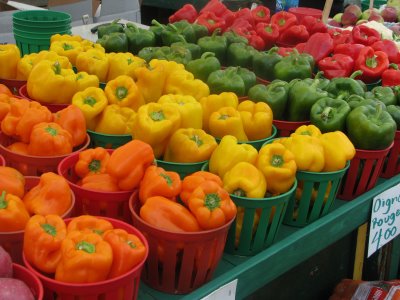 Last week I spent an afternoon at my favourite market – the Jean-Talon Farmers' Market in Montreal. My two daughters and husband came along (I suspect it was because we were going to have lunch in Little Italy which is located adjacent to the market).
I love the hustle and bustle of this market! Vendors offer samples of their produce for us to taste and are always friendly and helpful. It was full of shoppers toting bags full of fresh fruit and vegetables or buying bushels of tomatoes for canning or red peppers for roasting. There were such colourful displays of peppers that I bought them in different colours to make one of my family's favourite recipe: Stuffed Peppers with Italian Sausage and Rice.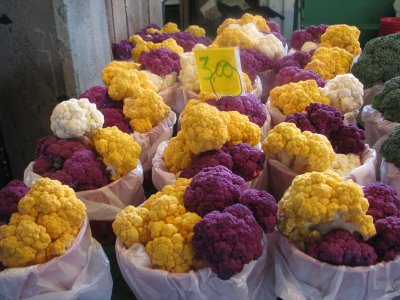 Then we came across this colourful display of cauliflowers! The purple and yellow colours belong in a Crayola box! I bought the white cauliflower to make
Silician Cauliflower with Bucatini.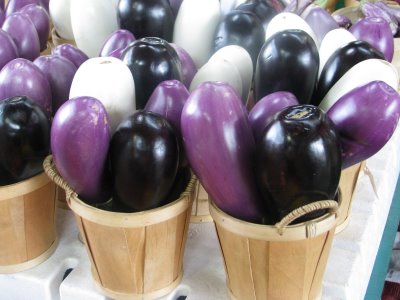 Then we came across white, purple and light purple eggplants displayed upside down in baskets. They resembled upside down bowling pins (well, maybe only in my imagination). Eggplant is one of my favourite vegetables.
One my favourite eggplant recipes is Caponata (Sicilian eggplant relish).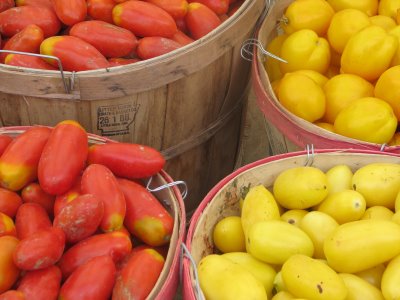 Tomato season is in full swing at the market. Bushels and bushels of tomatoes are sold to be used mainly for canning. Oven roasted tomatoes make a scrumptious sauce for pasta. Heirloom tomatoes make a delicious Tomato Galette.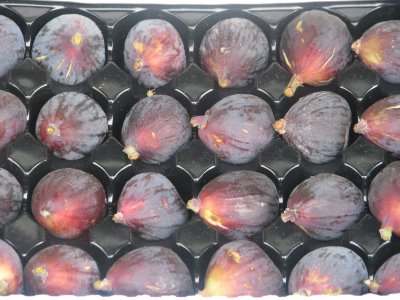 I couldn't resist these wonderful figs that tasted as good as they looked! We usually like to eat them fresh but they are also delicious baked in a Fresh Fig Tart.
Can we eat now?

We finally had to stop as we couldn't carry any more bags and we were hungry! After depositing our bags full of vegetables and fruits in the car, we walked over to St. Laurent street to eat the best grilled calamari salad at Caffé Epoca.
Pizzeria Bottega makes the best thin crusted Pizza Margherita with tomatoes, Buffalo mozzarella topped with fresh basil and baked in their wood burning oven imported from Naples.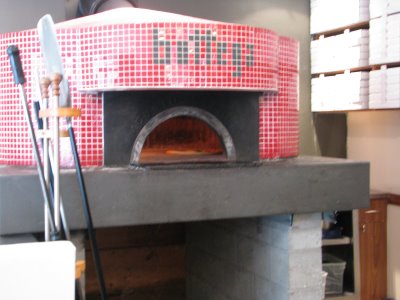 We'll be back!
As we were leaving the market I noticed that some vendors already had bushels of apples, pears and squash on display and was already planning my trip and making mental notes of which apple, pear or squash recipes to make (not a good idea because I can't remember what those recipes were).