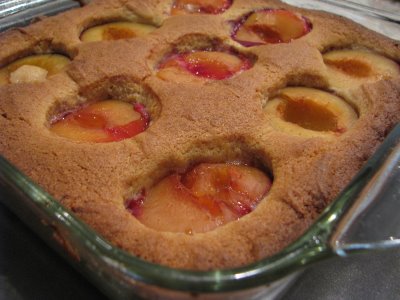 This Dimply Plum Cake, chosen by Michelle, of
Bake-En
, is this week's
Tuesdays with Dorie
recipe. I was a bit hesitant to make it at first because I am allergic to stone fruit but my family isn't and since the recipe sounded so good, I decided to bake it after all.
I love the taste of orange zest (and lemon zest) in a cake and it complemented this batter beautifully. I substituted cinnamon for the cardamom and used black plums that I had bought at the Farmers' Market last weekend. Some plums were more juicy than others and they didn't caramelize as much as I thought they would once the cake was baked. Although I couldn't eat the plums, I sure could lick the bowl and the batter was delicious.
The consensus was that the cake turned out delicious! It is also an excellent cake to welcome the Autumn season. Next time I make this cake I will use fresh figs (those I can eat – YAY!) – if I can find any.
Thanks Michelle for choosing such a delicious cake recipe! You can find this recipe at Bake-En or on pages 40-41 of Dorie Greenspan's 'Baking: From My Home to Yours'. The TWD Bakers are serving their Dimply Plum Cake at Tuesdays with Dorie.