It's been almost two weeks since my last post. My dear father-in-law passed away and the past two weeks have been very sad and stressful for our close-knit family. But eventually with time we must all move on and live with the memories. We have lived next door to my mother-in-law and father-in-law for the past 25 years so my family has many, many fond memories of my father-in-law. Our daughters were fortunate to have spent so much time with their grandfather who always took the time to teach them things and answer their questions.
Pear Tree
One of my fondest memories of my father-in-law is that of him picking pears from our pear tree in our backyard. He had his own pear tree in his yard, but he would stop at our pear tree on the way to our back door and pick up those pears for us.

Ginger Pear Muffins Recipe
I would make these delicious Ginger Pear Muffins with those pears and always bake extra for my in-laws. This is the recipe I chose to make for Magazine Mondays launched by Ivonne of Cream Puffs in Venice. This time though, I picked the pears from our tree and still baked the extra amount of muffins to bring next door to my mother-in-law. I know that every time I bake these muffins I will be thinking of my father-in-law up on that ladder picking those pears and smile!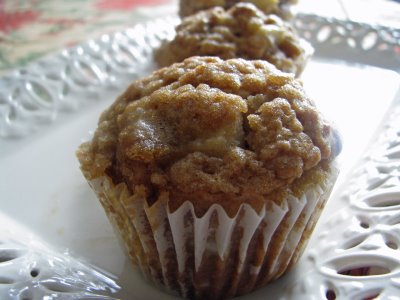 The recipe for Ginger Pear Muffins is from the October 2005 edition of Canadian Living Magazine.