For this week's TWD baking event Kelly of Sounding My Barbaric Gulp chose Pumpkin Muffins from page 13 of Dorie Greenspan's cookbook, Baking: from my Home to Yours.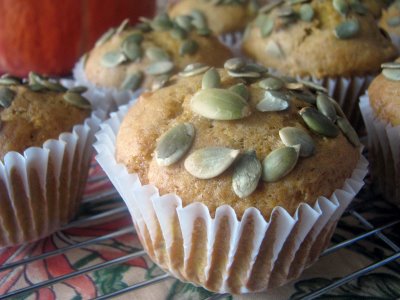 I wasn't sure if I was going to participate because some family members are not pumpkin fans and others are not raisin fans. Honestly, I am indifferent. Not wanting to miss an opportunity to try something new, I decided to make them after all.
Below are the changes I made to the recipe:
substituted oil for the butter
omitted the raisins
Of course I had to taste one right after they came out of the oven and thought the muffins turned out quite good! I love that cinnamon/ginger/nutmeg flavour, just perfect for autumn. Well, there are 11 muffins left up for grabs. Let's hope the family likes them too otherwise I will be eating pumpkin muffins for awhile!
Visit Kelly at Sounding My Barbaric Gulp for the recipe online and the Tuesdays with Dorie Bakers for their version of the Pumpkin Muffins.