About a month ago I bought the September issue of Saveur Magazine. I had not yet bought an issue of Saveur Magazine to add to the many, many, many cooking magazines I already own, but the caption Homemade Ricotta on the front cover caught my eye.
The article on Homemade Ricotta written by Janet Fletcher, was about making ricotta cheese the 'Shepherd's Way in the hilly pastures of Calabria, Italy'. It was so interesting and informative. I especially enjoyed the 'How to make Ricotta at home' page with step by step photos. The article also lists the ten different types of ricotta as well as a few delicious ricotta recipes. The wonderful photography of this article was by Landon Nordeman.
My favourite recipe among the rest was the Ricotta Fritters (Polpette di Ricotta) recipe. Ricotta is one of my favourite Italian cheeses so I use it in cooking and baking whenever possible. Ricotta also tastes delicious spread on a slice of Italian bread sprinkled with sugar (a childhood favourite). I have not made homemade ricotta yet, but it's definitely on my 'to bake/cook list'.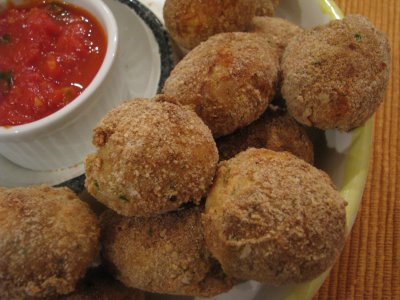 The manner in which the ricotta fritters are made remind me of making meatballs. The only modifications to the original recipe I made are:
omitted the prosciutto
baked the fritters instead of frying them
Even with these changes, the ricotta fritters were delicious and did not last very long. I served them as part of an antipasto dish.
This is my submission to Magazine Mondays, an event launched by Ivonne, the author of a wonderful blog, Cream Puffs in Venice
The recipe for Ricotta Fritters can be found at the Saveur Magazine website.