For this Tuesday with Dorie baking event, Grace of Piggy's Cooking Journal chose Rugelach on pages 150-151 from Dorie Greenspan's book: Baking: from my home to yours.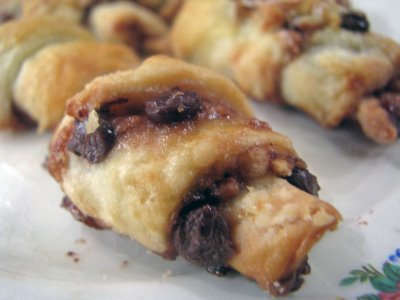 It's been years since I made or ate Rugalch so I was looking forward to making them. The dough a bit sticky at first but after it was refrigerated for a few hours, it was easier to work with.
The only changes I made to the original recipe were:
omitted the currants
substituted strawberry jam for the raspberry jam
The Rugalech turned out delicious! Although my husband thought they came out too sweet and requested I leave out the chocolate chips next time I make them, I noticed the Rugalech were disappearing fast and I better take a photo before there would be none left.
Thanks Grace for choosing a recipe from my past! Visit Grace's blog, Piggy's Cooking Journal, for the Rugelach recipe. Visit the TWD Bakers for to view their take on the Rugelach!