For this Tuesdays with Dorie baking event, Yolanda of All Purpose Girl chose Kugelhopf on pages 61-63 of Dorie Greenspan's book, Baking: From my Home to Yours.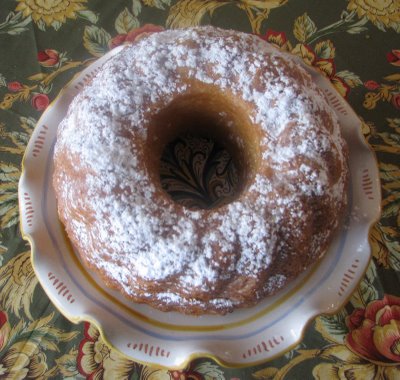 Although I have never made Kugelhopf, I have tasted it and it tastes wonderful! It reminds me of brioche. The recipe was easy to follow, but I am convinced that I didn't slap down the dough' properly. The only modifications I made to the recipe were:
omitted the raisins
added the zest of one lemon
The dough hook on my Kitchen Aid didn't seem to mix the dough at the bottom of the bowl so I had to turn it off often and mix it by hand. After the mixing was completed, I had a feeling that this dough was not going to rise. Anyway, I covered it and put it in the fridge. I managed to slap down the dough only twice. I forgot about it until this morning when I took the bowl out of the fridge. I almost threw it out, but then I thought I would just let the dough go through the two hour rising process and take it from there.
Much to my surprise, the dough rose to the top of the Kuglehopf pan (what can I say, I just had to have that pan). It came out of the oven smelling heavenly! Perhaps it could have risen a bit more had I been more patient. There won't be any comments from the family until tonight but I am sure they will love it, that is, if there is any left. It is so delicious!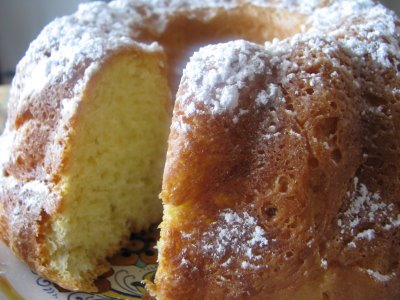 Thank you Yolanda for choosing such a delicious recipe. Visit Yolanda at All Purpose Girl for the recipe and the TWD Bakers to view their Kugelhopf at Tuesdays with Dorie.