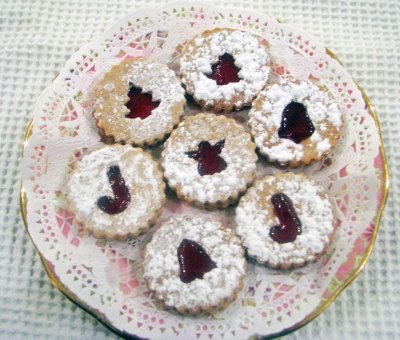 Dennis from Living The Life chose Linzer Sables from pages 134-135 of Dorie Greenspan's book, Baking: from My Home to Yours for this week's Tuesdays with Dorie baking event.
I have never made these cookies before and the combination of the ground almonds with the cinnamon and cloves sounded delicious. The dough was easy to handle after it's 2 hour refrigeration period. I found the perfect cookie cutter in my baking 'stash' for this type of cookie.
The baking time was adjusted to 9 minutes instead of 11 minutes. I used strawberry jam for the filling and put a touch more jam that I should have so when I sandwiched the cookies, the jam was oozing out of some of the cookies. I also used Nutella as a filling in some of the cookies. My dusting of icing sugar was more like a shaking so some cookies have more icing sugar than other.
Nevertheless, these cookies are so good and easy to make. Visit Dennis at Living The Life for the recipe. For more Linzer Sables, visit the Tuesdays with Dorie Bakers.