Ulrike of Kuchenlatein chose the Grandma's All-Occasion Sugar Cookies Recipe on pages 146-147 of Dorie Greenspan's Baking: From My Home to Yours. It's cookie season and the TWD are baking cookies by the dozens! When my daughters were little girls we used to make sugar cookies together and then have fun decorating them.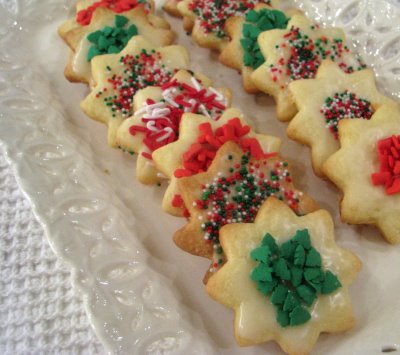 Two options were listed to shape the dough:
Roll out the dough and cut out shapes with cookie cutters
Form into logs and 'slice and bake'
I added lemon zest to the dough and chose the first method of shaping. This buttery dough should be handled as least as possible so I worked fast to cut out the star shapes. This recipe was easy to follow and the cookies turned out delicious. After they cooled off I decorated about a dozen cookies with lemon icing and Christmas sprinkles. I left the rest for my now grown-up girls to decorate.
These cookies brighten up a cookie tray and are perfect for holiday gift-giving. Thanks Ulrike for choosing a traditional Christmas cookie recipe. The recipe for these cookies can be found at Kuchenlatein. Visit the Tuesdays with Dorie website to view the dozens and dozens of these cookies bakes by the TWD Bakers.