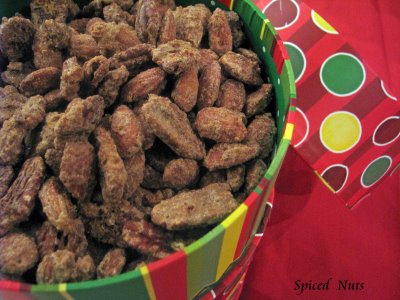 If you like pecans and almonds, you will absolutely love these Spiced Nuts! Mixed with cinnamon, nutmeg and cloves, the kitchen has a wonderful scent while they are roasting in the oven. This recipe is from my good friend Maria who now, with her husband Roma and their children, live in British Columbia.
We sure do miss them and making these Spiced Nuts brings back great memories of the holidays we celebrated together. This recipe is definitely on our
Favorite Family Holiday Desserts
list.
This recipe can be doubled or tripled. Adjust the baking time accordingly. Spiced Nuts are perfect for holiday gift-giving.
Warning! These spiced nuts are addictive!
Holiday Spiced Nuts
Ingredients
¾ sugar
3 tbsp water
1 egg white, slightly beaten
1 tsp ground cinnamon
¾ tsp salt
¼ tsp nutmeg
½ tsp ground cloves
2 cups pecan halves
1½ cups whole almonds
Instructions
Preheat oven to 200 F.

In a large bowl, mix all the ingredients together.
Spread evenly in a greased 15x10x1 inch baking pan.
Bake for 45 minutes stirring every 15 minutes.
Variation

Walnuts can be added or substituted for the pecans or almonds or add any other nuts of your choice.