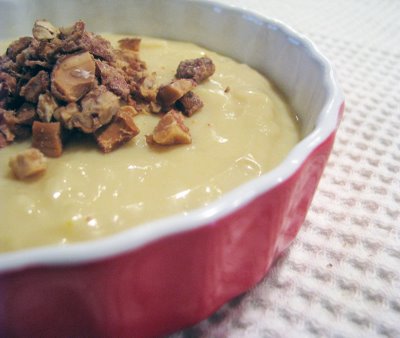 For this week's Tuesdays with Dorie baking event, my good friend Donna of Spatulas, Corkscrews and Suitcases, has selected Real Butterscotch Pudding from Dorie Greenspan's Baking From My Home to Yours found on page 386.
Great choice Donna! I love puddings. They're one of my comfort foods. I had not yet made a butterscotch pudding so I was looking forward to it.
When I read the recipe, I noticed that Dorie, once again, wrote a recipe for pudding using a food processor. I remembered that's what she used for her chocolate pudding recipe and what a mess my kitchen was afterwards nevertheless I used the food processor again with the same results exept that the pudding was not thickening. It had more of a custard consistency. Well, I thought I would save this custard to make a Panettone Trifle and make the pudding once again. This time I used my method of making pudding using just a whisk and pot. The pudding thickened and tasted amazing! (I loved the taste of whiskey in the pudding.)
We had the option of topping the pudding with whipping cream and buttered pecans. Since I am not a big fan of whipping cream, I topped the puddings with some chopped Holiday Spice Nuts I had just made.
Both my daughters loved the Real Butterscotch Pudding with the Spiced Nuts (they also added whipped cream). My husband thought that the flavour of the nuts over powered the taste of the pudding. So I guess that would give the pudding an average of Very Good!
Thanks Donna for choosing such a delicious pudding recipe. The recipe for Real Butterscotch Pudding recipe can be found on Donna's blog, Spatulas, Corkscrews and Suitcases. Donna made a delicious Real Butterscotch Pudding Pie!
Visit the Tuesdays with Dorie Blogroll to see the TWD Bakers' take on the Real Butterscotch Pudding.
Happy Holidays to all!