For the final Tuesday of 2008 (I am a day late posting!), Anne of Anne Strawberry chose the Tall and Creamy Cheesecake recipe on pages 235-237 of Dorie Greenspan's baking book, Baking from my Home to Yours.
I am not particularly fond of cheesecake and we certainly were on dessert overload after Christmas Eve and Christmas Day. Since we were having guests for dinner on the 30th, I decided it would be the perfect occasion to bake it.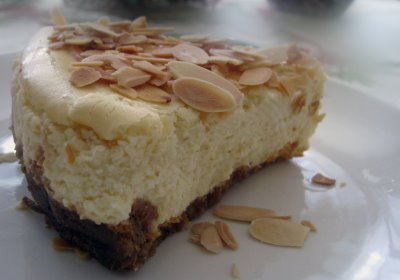 The recipe was easy to follow. I added 2 tbsp of Amaretto to the batter and spinkled the cheesecake with toasted almonds once it was baked. The texture looked a bit grainy when I cut the first slice. I should have taken that extra time to mix the batter until was absolutely smooth but neverthless it tasted delicious and smooth. Whenever I have made cheescakes in the past, the crusts always turned out hard to cut through. This was crust was perfect.
I would certainly make this recipe again for my cheescake lover friends. Thanks Anne for choosing this recipe. It was the perfect dessert to serve my guests.
Vist Anne Strawberry for the recipe and the TWD Bakers for their cheesecake creations.
Next week's recipe will be French Pear Tart on pages 368 and 369 of Dorie's baking book chosen by none other than Dorie herself.