The first TWD baking event recipe of 2009, French Pear Tart, was chosen by none other than Dorie Greenspan herself from her baking book, Baking, From Your Home to Yours.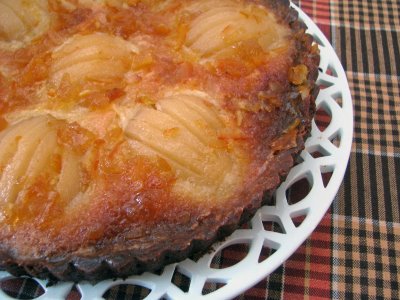 I wasn't sure whether I would be up to baking after the holiday baking/marathon, but since we are having company for supper tonight, I thought it would make a great dessert.
The recipe was easy to follow and came together easily. I used the food processor to make both the crust and the almond cream.
I used canned pears instead of fresh one and substituted orange marmalade for the apple jelly for the topping. The only problem I had was with the sides of the crust browning too fast although the bottom crust turned out a nice golden brown. Hopefully the crust won't be too hard to cut through. Nevertheless, I am sure it will be delicious and am looking forward to dessert tonight.
Thank you Dorie for choosing this week's baking event. It sure has been fun baking your recipes each week with such a great group like the TWD Bakers.
The recipe for the French Pear Tart can be found on pages 368-369 in Dorie's baking book, Baking, From My Home to Yours or visit Dorie at In the Kitchen and on the Road with Dorie.
To view The Tuesdays with Dorie Bakers' French Pear Tart, visit the TWD Blogroll.