Rebecca of Ezra Pound Cake chose Savory Corn and Pepper Muffins on page 6 of Dorie Greenspan's book, Baking: From My Home To Yours for this week's Tuesdays with Dorie baking event.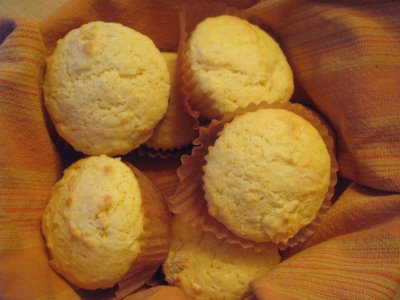 When I read the ingredients for this recipe I knew that my family would not like the flavor of the add-ins in these muffins so I chose the 'Playing around' option to make them with just the addition of corn. I did add extra sugar though to give them more a sweet taste. My sister-in-law gave me a box of natural non-stick baking cups made by Chefs Select. I thought this would be a good time to try them out. I have to admit I was a bit skeptical at first, but the muffins did not stick at all!
They turned out quite plain looking but nevertheless delicious! My husband ate one for dessert, but I ate one right after they I took them out of the oven. Someone had to taste them to make sure they were good.
Thanks Rebecca for choosing an easy and fast recipe to make. If you don't have Dorie's book, visit Esra Pound Cake for the recipe. Visit the Tuesdays with Dorie Blogroll to view the TWD Bakers' Savory Corn and Pepper Muffins.