For this post I would like to take the time to share the blog awards I was so fortunate and honored to have received in the past few months. Many thanks to all of you who surprised me with these awards. I want to share them with all the wonderful blogs I have visited in the past year especially the following: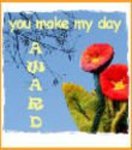 The 'You Make My Day' award goes to Donna of Spatulas, Corkscrews and Suitcases who has an amazing sense of humour, has an amazing blog and writes it as it is! Donna, reading your blog certainly makes my day.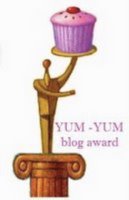 I would like to share the YUM-YUM blog award with Melissa of It's Melissa's Kitchen,
Caitlin of Engineer Baker, LyB of And then I do the Dishes and Donna of Spatulas, Corkscrews and Suitcases. Their blogs are entertaining, have great recipes and amazing photos.


The Blogging with a Purpose Award goes to….Ivonne of Cream Puffs in Venice and Lisa of La Mia Cucina , the founders of The Daring Bakers for their hard work and dedication in making The Daring Bakers such a huge success.
Laurie of Quirky Cupcake, the founder of Tuesdays with Dorie, and also Nikki of Crazy Delicious Food , Shari of Whisk Food Blog and Clara of I Heart Food for Thought for their contribution in making Tuesdays with Dorie such a popular baking event.
BloggerAid, and its founders, Val of More Than Burnt Toast, Giz of Equal Opportunity Kitchen and Ivy, of Kopiaste…to Greek Hospitality.
Their mission: "to help make a change in a world where starvation affects such a profound number of people, raise money and awareness for the hungry in communities both at home and abroad". – Bloggeraid.
BloggerAid will publish a fundraiser cookbook this year. The proceeds will go to the World Food Program and a specific program of BloggerAid's choice. You don't have to be a member of of BloggerAid to participate in this cookbook project, so you have a recipe you would like to contribute please visit BloggerAid for details.
Gloria Chadwick of Cookbook Cuisine, the mastermind and Head Chef of the BloggerAid Cookbook project. Want to write you own cookbook? Join Gloria's online Cooking Class.
Joan Nova of Foodalogue who hosts a Culinary Tour of the World event each week in her in her quest to stamp out world hunger.

The Brillante Weblog Award goes to the following blogs for their content and outstanding photos:
Farida of Farida's Azerbaijani Cookbook, who his in the process of finalizing her cookbook,
Meeta of What's for lunch honey? and founder of The Daily Tiffin,
Zoe of Zoe Bakes and co-author of the popular artisan bread making book, Artisan Bread in Five Minutes a Day,
Francois-Xavier of FX Cuisine who has recently added instructional videos to his blog.
Sharing awards is just as fun as receiving them. May 2009 be filled with blog awards for everyone!