This month's challenge is brought to us by Karen of Bake My Day and Zorra of 1x umruehren bitte aka Kochtopf. They have chosen Tuiles from The Chocolate Book by Angélique Schmeink and Nougatine and Chocolate Tuiles from Michel Roux.
This would be a challenge for me as although I have read about Tuiles but never thought I would make them. They looked so delicate! There's a first time for everything and this morning was the first time I made the Tuiles. The recipe sounded easy enough although I knew I wasn't going to attempt to make any fancy shapes for the first time. There were two sweet and one savory recipes to choose from. I chose one of the sweet recipes and added some lemon zest to the batter.
The first batch of Tuiles turned out looking like small pancakes. I realized that I did not spread the batter thin enough. I tried to shape them around a rolling pin but they were too thick (hey, I tried).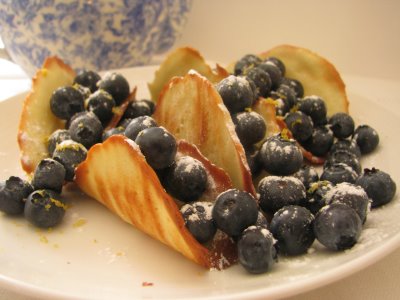 Now for the second batch I spread the batter thinner but not thin enough. Although they were more pliable than the first batch, they still were not Tuile worthy. Actually they resembled small tacos. So I filled them with blueberries, sprinkled lemon zest and icing sugar on top and voila! – my version of Tuiles – for today anyway. I loved the combination of the Tuiles with the fresh blueberries and lemon zest. I also added a dollop of yogurt on top. Would I make them again? You bet! I want to make them till I get them right.