Bonjour!
For this week's Culinary Tour around the World, Joan of Foodalogue, has invited food bloggers around the world to join her in a virtual journey to France to participate in preparing authentic French dishes.
France is definitely one of the countries to visit on my bucket list. I can just imagine how wonderful it must be sitting in a French café, drinking café au lait and savoring a croissant – magnifique! French cuisine offers so many exquisite dishes to choose from but I finally decided to make two of my family's favourites.
French Onion Soup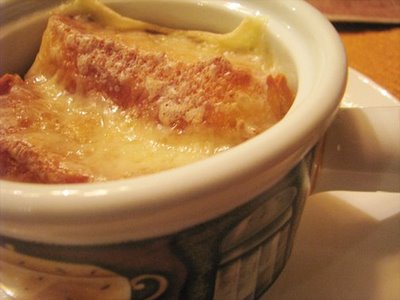 According to
Wikipedia;
Onion soups
have been popular at least as far back as Roman times. They were, throughout history, seen as food for the poor people, as onions were plentiful and easy to grow. The modern version of this soup originates in France in the 18th century, made fom dry bread or
croutons
, beef broth, and
caramelized
onions. It is often
broiled
in a
ramekin
traditionally with
Gruyère
melted on top
.
I chose this French Onion Soup recipe because it is easy to prepare and I just loved the taste of the caramelized onions combined with the brandy and stock. When I was about to sprinkle the cheese on the toasted bread in the soup I realized that I did not have as much of Gruyère cheese as the recipe called for. Nevertheless, it was hearty and delicious! Perfect dish to serve on these cold winter nights.
Madeleines
My love affair with Madeleines began many years ago when I first made them even though they stuck to the pan and I had to pry then out with a spoon.  I since bought non-stick pans but kept the original Madeleine pans I purchased as a reminder of my first experience of making them. These French pastries are made of flour, butter, sugar and eggs and have been associated with the little French town of Commercy in the region of Lorraine in France.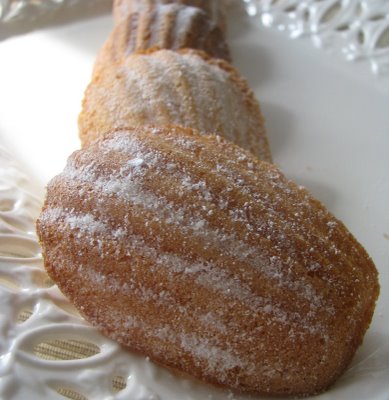 Thanks Joan for hosting this event! Visit Joan at Foodalogue for the round-up this week and view all the wonderful French dishes were brought along on this virtual tour.
Bon apétit mes amis!