For this week's Tuesdays with Dorie baking event, Jessica of cookbookhabit chose World Peace Cookies, page 138-139 of Dorie Greenspan's baking book; Baking: From My Home to Yours.
The method used to make these cookies reminded me of the method used to make one of my favourite biscotti recipe. So I thought these cookies would be so easy to make and the addition of fleur de sel sounded amazing. Salt and chocolate – who would have thought?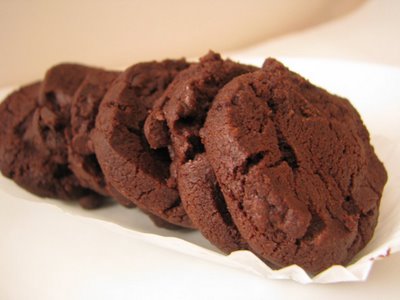 Like many other TWD Bakers, I found this dough very crumbly. I also doubled the recipe for I suspected that these cookies would disappear quickly along with cold glasses of milk to wash them down. The first log I baked was sliced with minimal crumbling and the cookies turned out delicious. The flavour was so intense with chocolate and a salty after taste.
The rest of the logs were not that easy to slice. I managed to slice a few cookies and the rest all crumbled. My daughters and I began to eat the raw dough which tasted as good as the baked cookies. We were sure getting our caffeine fix. I certainly want to make these cookies again. Hopefully I will figure out the secret of not making them crumble otherwise we will be eating raw cookie dough again.
Thanks Jessica for choosing such a chocolate intense recipe. Visit Jessica's blog, cookbookhabit, for the recipe. You will certainly want to make them more than once. The TWD Bakers are showing their World Peace Cookies at Tuesdays with Dorie.