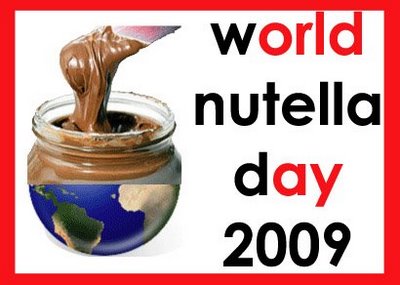 Nutella lovers of the world unite! Sara of Ms Adventures in Italy and Michelle of Bleeding Espresso (and Shelley from At Home in Rome, in spirit) have declared that today, February 5th, 2009, is World Nutella Day! A day to celebrate by whipping up some Nutella recipes or just eating it in its own natural form – hazelnuts and chocolate. Sweet.
In our home we have our own Nutella eating ritual – open jar, scoop up Nutella with spoon and enjoy! We also slather it on fresh bread or on Social Tea cookies. Since waffles are one of my family's favourite breakfasts and they also eat Nutella for breakfast, I thought I would combine both. The result: Decadent Nutella Waffles.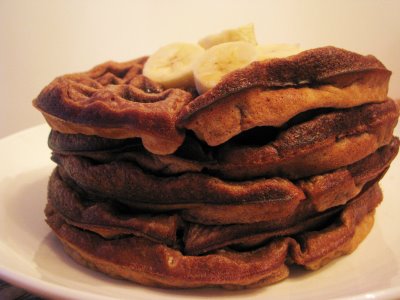 I used the waffle recipe that came with the waffle maker I've had for the past fifteen years and just added about 4-5 generous tablespoons of Nutella to the batter. Actually we had these for dessert last night topped with bananas and drizzled with pure Maple Syrup. They were Nutella sweet and delicious.
Visit Sara to find out 50 Ways to Eat Nutella and Michelle for Top Ten Signs You're Addicted to Nutella.
Some submissions for this event include:
Spatulas, Corkscrews and Suitcases – Chocolate Nutella Fudge Brownies
Stickey,Gooey, Creamy, Chewy – Nutella Banana Filled Aebleskiver
Ms. Adventures in Italy – Hazelnut Macarons with Nutella and Spicy Nut Centers
What's for Lunch Honey? Nutella Flakey Swirls

Make sure to visit Ms. Adventurey in Italy or Bleeding Espresso on February 9th, 2009 for the World Nutella Day round-up of all submissions. This is a post you surely don't want to miss.
Thanks Sara, Michelle and Shelley for co-hosting such a sweet event and uniting Nutella lovers all over the world.
Decadent Nutella Waffles

Ingredients:
2 cups flour
1 1/2 tsp baking powder
1 tsp baking soda
1/2 tsp salt
1 tsp cinnamon
1 1/2 cups buttermilk
4 eggs
3/4 cup melted unsalted butter
4-5 heaping tablespoons Nutella
Method:
Heat waffle maker according to manufacturer's direction.
Spray with non-stick baking spray.
Combine flour, baking powder, baking soda, salt and cinnamon in medium mixing bowl.
In separate bowl whisk eggs and buttermilk until well combined.
Add egg mixture to dry ingredients and mix until just combined.
Mix in melted butter and Nutella and mix just until combined.
Do not over-mix.
Pour mixture onto waffle maker and cook for 3 minutes.
Remove waffle and continue in this manner until all waffle mixture has been used.
Yields: 7-8 waffles.
Serving Suggestion:
Serve with fruits topped with maple syrup or whipped cream.